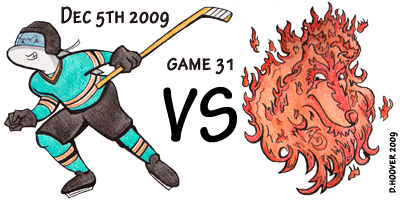 TONIGHT @ 7pm Toys for Tots night! Bring a new unwrapped toy!
Tonight marks Randy Hahn's 1000th game as the tv play by play man for the Sharks. I'm sort of sad I will be at the game and will be missing his calls, but I'm sure they'll do SOMETHING for him before the game. One of the trainers got a big ole bottle of wine and his very pregnant wife got flowers. Maybe Drew will give Randy flowers. That would be epic.
The first rule of disappoint game club is you don't talk about disappointing games. Not going to compare the last game to the Flames last game or talk about how both teams will be fired up because we all already know that and it's a tied line. No, instead I'd like to talk about how much games against the Flames annoy me.
It doesn't matter where they are, or where the Sharks are, in the standing, the Flames are like that petulant school yard bully who you now tower over but he still tries to pick on you anyway because he's a jerk and that what jerks do. The Flames always play hard, always play tough and always end up infuriating me with how good they are.
One can trace much of my remaining animosity towards the Flames back to the 2008 quarterfinals. That series nearly did me in. I think it nearly did both fan bases in. It was nuts. And then last year I think there was a game when the Sharks just totally embarrassed the Flames, only to go to the Saddledome and find themselves equally red-faced. Not really a fan of any team embarrassing the Sharks but for some reason it feels that much worse when it's the Flames.
And for some reason I can't quite discern, despite the Flames recent playoff record, they don't get the same crap the Sharks about the post season. This only adds to my consternation.
I often remind myself that if nothing else, at least we have this:
That call is legendary.