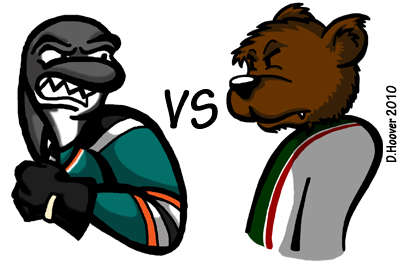 Tonight @7:30pm
When at the game, teal is an acceptable substitute for green.
Happy St. Patrick's Day everyone! No, not Patrick Marleau, (although if any Shark is to be canonized by fans, it might be him), St. Patrick. Or, as we American contemporaries see it, an excuse to wear green and drink Guinness. While there are no "snakes" to be driven from the land tonight, there is an enemy hockey team that could use a little getting rid of. The Sharks 6-3 win over the Stars showed that they are still in win mode, even if it takes nearly heart attack inducing endings to games to get there.
As you all know by now, Heater got two games for an elbow to Ott. No problem with that, elbows aren't to be used as weapons. In fact, aside from the fact that it was a ridiculously stupid penalty to take at a really bad time to take any penalty, my biggest issue with the hit is that someone did something to make Steve Ott look good. He's a dick, but now he can pontificate on the virtues of clean play. How annoying.
A friend of mine suggested Cheech coming back to replace the suspended Heatley, mostly for the amazing amusement value of that move. The Tank would explode. After being traded and sent down and run through the ringer, San Jose still really loves Cheechoo. There is very little chance of that actually happening but just in case, ready those whistles. *wink*