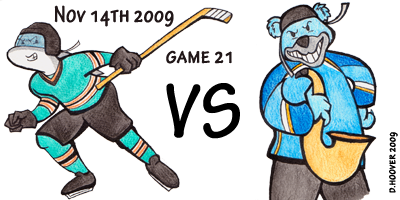 Man that is one freaky ass looking bear.
Wait, the Sharks on on the road? AGAIN? They've been on the road all season! Seriously! This is game 21 and 8 have been played at home. Travel also sucks for west coast teams. I guess this is balancing out last season's ending on the road madness.
I have no idea how this game is going to go. I don't really know what to expect from STL or Mason.  I like to say that every team is dangerous, (and I will say it a lot), so I try not to take teams that aren't hot right out of the gate for granted. I already learned my lesson in how much a team can change during the off season during the season opener against the Avs. I'm not looking to repeat that.
The Sharks are coming in after a disappointing loss, (though if you watch the post game quotes, The Todd was not too upset about the game play overall), to the Stars at home in the SO Thursday, while the Blues are also coming in having just had a home loss. Which basically means both teams will want to win. Only one can. It's like Highlander on ice, but with less lightning and beheading and randomly strewn about newspapers fluttering dramatically in the magic laden winds.
All I know for sure is that I know at least 2 of the Sharks fans who will be at this game. I doubt they have seats on the glass like they did when they went to Atlanta, but they'll be there.  You can plays "Where's waldo The Fins" today at 5pm on your very own moving picture box and look for them! CSN-CA and the good folks at KFOX have your broadcasting back.