To borrow a term from TWOP, I'm calling this a weecap. Only partially because its a cute little bit of alliteration. I also just kinda like saying the word "wee." It's so versitile.  You can use it to describe size, or as an exclamation of fun. Wheeeeeeeeeeeeeeeeeeeee...
*ahem*
So let's start with Saturday's game because that makes the most sense.
Wheeeeeeeeeeeeeeeeeeeee!
You know what I love? Sharks wins.
It doesn't really matter that it came against a team that's been struggling and that (on paper) we should clearly be able to dominate. Those teams are always the ones that bite you in the end. You relax, sit back, and suddenly they're up be 3 and it's the third and you look like a major jerk.
Never, ever assume you can beat a team based on their reputation alone.
Thankfully, the Sharks came in, well aware of the brewing poop storm in the city of St. Louis, and well aware that the team they'd be facing had just been chewed out by its owner. They expected a hard fought game, and they certainly got that. It was chippy from minute one. Hits all over, bodies flying, it was like 300 only minus the ancient Greek and Persian parts. And far far far less blood and shirtlessness.
The Blues fell despite out shooting the Sharks and getting the first goal of the game.The Sharks lulled the Blues into a false sense of security by waiting until the second to score, and then sucker punched them by scoring two goals just 16 seconds apart. Sails deflated. Joe got an empty netter in the third to seal the deal 3-1. Sharks fans everywhere were amazed that their team scored an empty net goal. They never do that. Give them an open net and they'll find a way to hit the crossbar like very time.
So that game was cool. It gave me some hope (some), about facing the Blackhawks but I just had this feeling.
The game started out well enough. The Sharks scored 1st and held that lead for most of the 1st before Chicago tied it towards the end of the period. Then the Sharks came back in the second, looking fiery, and scored two quick goals to make it 3-1. Sharks fans we're feeling super good. Then, the unthinkable happened. The Blackhawks scored. And scored again. And then the third was like a pile of crap. And it went to OT, which lasted all of 41 seconds. And the Hawks won.On JR night no less!
Foot meet gas. Ok, now STAY THERE.
So that game kinda sucked. It's really deflating to be like "OMG WE'RE UP 3-1!" and suddenly find yourself tied and at risk of losing. And then you do, and you're like "sdkfhjfhlasfslfjkjk" because the Hawks are good and the Sharks had them and then for some reason unknown to modern man they sat back. No bueno.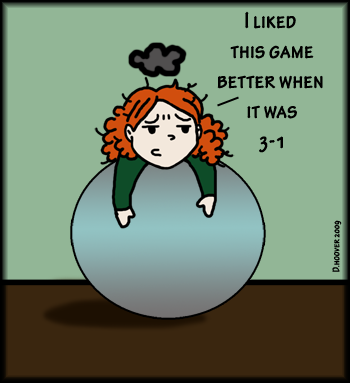 I really do sit on a stability ball during the games.When stuff gets iffy, I get restless and roll around on it. Or sag on it, as it the case above. Not my best cartoon, but it does sum up the Sunday game rather well.