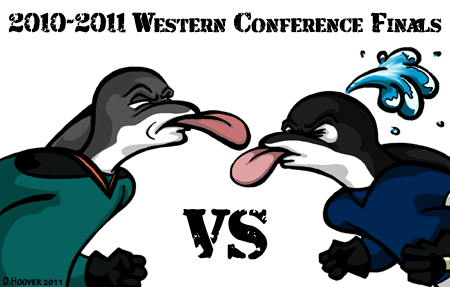 Tonight @ 6pm Pacific
Games 1, 2, 3, and 4 have gone. I return from the paradise in the Pacific to find a less my team in a less than blissful state, being down 3-1 in the series, with an injured captain, a beleaguered Ben Eager, a distressed Demers, and an entire team in a must-win-or-face-locker-room-clean-out-upon-their-return situation. It's not a pretty sight to return to, but it is also not a hopeless one.
There still exists a chance for the Sharks to come out guns blazing and take game 5. There still exists a chance for the Sharks to rally back and win game 6. There still exists a chance to force a game 7. Winner take all. It IS possible. The Canucks aren't better, though they have played that way. This deep into the playoffs seeding and regular season results mean nothing. It's about who's scoring, and who's not. It's about who can shut down the other team, and who can't. It's about playing hot, at the right time, for the right game, to keep a series going. It's about luck, and hope and grit, and yes, heart. The Sharks have all those things. The question is, can they combine them tonight, and play all out, to get them one step closer to where they so desperately want to be?
Only time will tell.
Go Sharks!