The Five Stages of Post Season Grief
With the Cup Finals a day away, most of us have now either settled into to life without our teams or are busy sobbing into our Cheerios over their recent elimination. It's a rough road, being a fan, and watching your team bow out of the post season is never fun. In the span of a few short weeks, all the hopes and dreams harbored over a season can be dashed. Such an emotional time is likely to leave you a bit worn out after, slowly marching along the steps of grief, hoping next season will be better. It's not always easy to tell where on this tear soaked path you are, so I made an illustrated guide. Just look for the image that most closely matches your current mental state.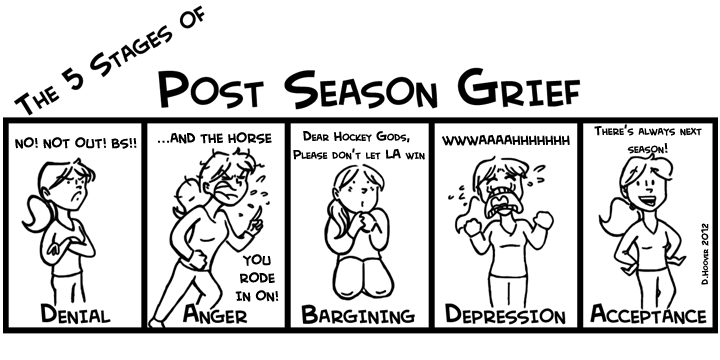 Post season grief can be an ugly thing, but with a punching bag, and axe, 3 sticks of dynamite and a few drinks, you're likely to get through it without destroying your neighbor's fence or car. Just remember, even Kings fans are people, and the axe stays in the garage when they come over. Just don't invite them over to watch hockey. You won't like them when they're happy.