The Final Sharks v Nucks Game of the Regular Season
This is the last time this regular season that the Sharks and Nucks will meet. Thank the hockey gods, I am so done with this match up. The last game ended in so bitter a loss, I feared for my sanity. In fact, the only good thing that came out of the last time the Sharks and Nucks met was that Mina and I finally got to meet @ryanclassic and @alixiswright37. We didn't have a lot of time to hang out, but they are exceedingly wonderful people and I look forward to the next chance we all get to grab and brew and hand out. As you can see, the evening went swimmingly.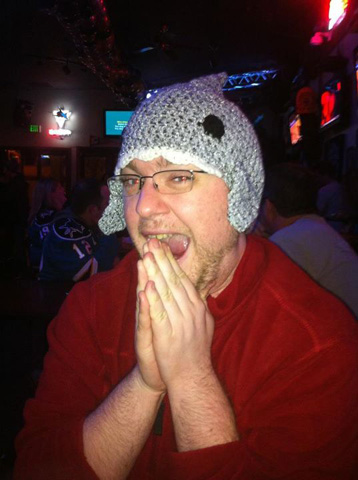 He's only wearing the best hat ever made
Since we cant hang out with them in a pub again tonight, here's hoping the Sharks give us a win instead.

Don't forget folks, today's game starts at 1pm Pacific time. Early starts rarely bode well for the Sharks, but this does allow all of us political junkies to stare at the returns following the game without feeling guilty for doing so.