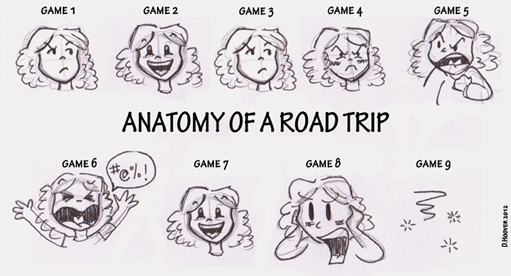 What do you say at this point? 2-6-1, Teeth abused left and right this game, left it early, no response from the team, Moore out before we even get to know him, Murray out, Sharks drop from 3rd to 7th, TMac beaned on the head with a hockey stick, could it get any worse? (Don't answer that, Hockey Gods). Talk about miserable. Then today, during the game, twitter degraded into a heated battle over which goalie is better. The whole team is flailing around wildly and we fans are debating net minders, like they're the only thing going poorly for this team. Man, this trip has wrecked us.
A few games ago, sure, it mattered who was in net, or at least, the argument was there. Now? The whole team has to get its act together before things start coming up Milhouse. One man doesn't matter. It's a team game. Everyone sucks right now. It's transient, the team will move on*, but for right now, at the end of this road trip, they suck. It's just how it is. (*or they will once air shark stops being broken. Team's stuck in Minny overnight. Oy vey. Time to get a few dozen beers, guys)
I think the one thing we can ALL agree on right now is THANK GOD IT'S OVER (or nearly over for the guys stuck in Minny)
Sharks return home Tuesday night.