Gameday! Sharks v Canucks, Round 3 Game 1. A Tale of Two Failing Cities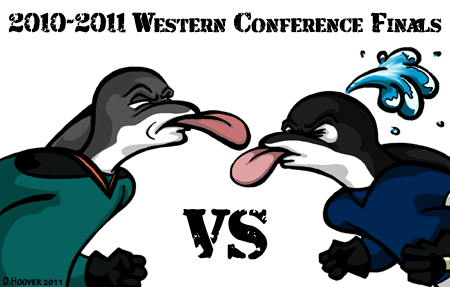 Shortly after securing victory last Thursday night over the Red Wings in what was one of the most nerve wrecking, stomach clenching, flip flop, shark hopping game 7s I have ever seen, the NHL's talking heads were already billing the series with the Canucks as a Tale of Two Failures. No heart, no grit, no success. Ignoring, of course, the Sharks amazing comeback in the second half of this season, the Canucks ability to overcome the Blackhawks in 7 games and best a playoff foe, the Sharks amazing game 3 comeback against LA, or how the Sharks had just bounced the team to beat in the West for the second year straight. Clearly, hope only springs eternal in historically lauded markets.
Had either team lost it's respective game 7s, both would have been labeled "chokers", a label not applied to those who faced them and lost. It's a narrative written by trite denunciation of both team's accomplishments, following outdated story lines and ancient criticisms. It's so much easier to stick to the lines of old that to realize that both teams have grown and the old story lines don't work anymore. Yes, someone will leave disappointed at the end of this series, but that's how the playoffs go. For so many teams, that doesn't equate to a lack of success, so much as it does a simple, but disappointing, defeat.
The playoffs aren't easy; they're not supposed to be. This isn't a tale of two failures, it's a tale of two teams who haven't met pundit set expectations. Two teams that have made those who make a living making predictions look bad. Hockey isn't played on paper, it's played on the ice. In the end, the only words that matter are those said as the teams leave the ice after 60 minutes of play. With any luck those words will be "Sharks win."
Go Sharks!