Dr. StrangeGray, Or How I Learned to Stop Being Nice and Hate the Canucks
I experienced a strange evolution of emotions in the past week and a half or so since the Sharks have been eliminated. At first I was sort of ok with it. Being in Maui when your team is playing in the third round is one of the best ways to not be at all worried about the series, even as you walk down the main drag in Lahaina swearing over the score. I didn't watch the hand shake because I was at a career thing, and while there were several Sharks fans there, we left the bar before the game was over. (which was for the best, really). I was pretty sure that I would be generally ok with the Canucks winning the Cup at that point. After all, the Cup would stay in the West, and I have some friends who are Canucks fans, and it seemed like a fine decision after two glasses of wine and a BART ride towards home. Then something started to change.
Perhaps it was that the temporary bliss from the wine wore off, or that the fuzzy glow of Maui faded and the sad gloom of the end of the season began to dawn. In all honesty, it was probably watching my twitter feed explode with some really over confident Canucks fans who had all about planned the damn parade already, and were tap dancing on the Sharks graves, that made me start to turn. (In the interest of full disclosure, I too, would gloat if my team were in the finals. Maybe not to the same level, maybe way beyond, but it would happen. That's a perfectly acceptable reaction, but as a fan of the team eliminated in round 3, it wasn't fun to read.) My rumination went something like this: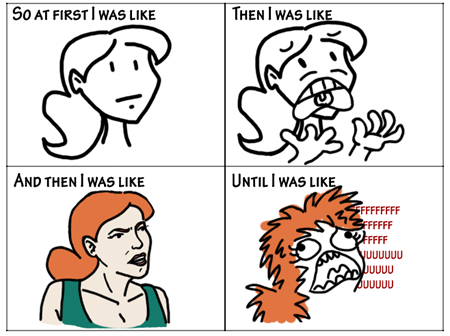 I did not invent rage comics, I just Gray-i-fied them
It was in panel four that I realized that I could not, and would not, under any circumstances related to this Cup Finals, root for the Canucks. Eff those guys, no way. Part of it is nationalism, I'll admit, but I mostly, I just don't want them to win. Period. No way, no how, no sir. Here's the rub though, I don't want the Bruins to win either.
Crap.
One of the teams is going to win. It's not like the series can end in a tie where each team agrees to joint custody of the Cup for the summer. No, someone has to win, and dammit, it will be someone I don't really like.
Usually, I am able to find a finalist I at least prefer over the other. Sometimes that's "whoever isn't Detroit" or in the case of last year, it was "whoever isn't thee Blackhawks" but this year no such luck. I was fully willing to hop on the Lightning's bad wagon if they advanced, but they didn't, and so, my dreams of having a team I liked in the finals were dashed. So I had to make a decision.
I'm not paying attention to the finals. Oh, I'll probably watch some more of them, I watched part of game 1 because I just love hockey so damn much I feel compelled to watch it before it goes away for the summer, but I can't bring myself to get excited enough to really follow it. Like tonight, I went out to dinner instead of watching the game. I caught a passing glance of it as we sat, huddled in our winter coats eating ice cream, and I curled my lips back in disgust as I saw the Canucks celebrate. I said nothing, as I was the lone hockey fan in the group, but any desire I had to know anything about the game was lost in that instant.
Does this make me a bad fan? Maybe. Does it make me a bitter fan? Oh hell yes, and you know what, I'm fine with that. I gave my congratulations to the winning team, and now I have moved on. Sure, I moved on to bitterness and minor situational hatred, but I still moved on. So Stanley Cup Finals, you can go on and do your thing. People can enjoy you, and when someone wins, I will send them my congratulations, but I will not devote much time to you. It's a long summer, but I welcome it. As far as I am concerned, the season ended on May 24th, 2011.