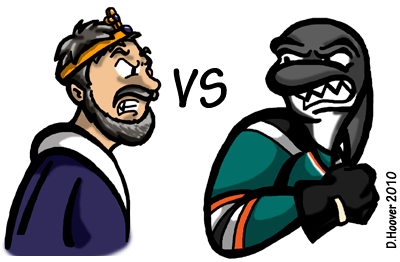 Tonight @ 7:30
CSNCA and 98.5 KFOX
I have grown to love the radio coverage even more this season. Top notch.
So, game tonight, huh?
Last one before the All Star Break. Thanks to Colorado's win, the Sharks are one point out of the 8th spot in the West. Look for them to get that spot back tonight, and to set themselves us to advance even further up the playoff ladder after the All Star Break ends. The Pacific might be tight this year, but the Sharks can do it.
Our Stalock who art in goal has been called up to backup Nemo in nets tonight. Anyone who has seen this kid play knows he's the real deal. In fact, some videos out there suggest that he's so fast, he can smell a fart before someone lets it rip. Now that's fast. LA better watch out because there's a man god cheetah in the house tonight, and his name is Stalock. He's so quick he can make a save from the bench and be back in his seat before anyone even know he left. He can make a save like 5 games before the others guys even think to shoot the puck. That's how amazing Stalock is.