Gameday! Sharks v Canucks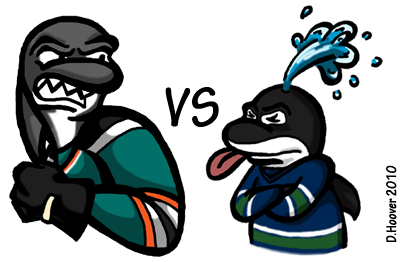 Tonight @ 7:30pm
Back home, where the Tank is
98.5 KFox and CSNCA have your local coverage
The Sharks greeted 2011 with a 1-0 birthday victory for Seto at the Staples center. While it might not have been the trouncing Sharks fans were looking for after the week prior, it was, nevertheless, a satisfying start to the new year. Now the Canucks come rolling in, hot as ever, and looking to hand the Sharks another loss to go with the 6-1 version they gave them last November.
Let's make sure that doesn't happen.
We're down JoePa and Mitchell, but this team's finally starting to come together. Maybe it won't have a 20 game win streak, but it could. Wouldn't tonight be a great time for that streak to start? Ride the waves of the LA victory straight through the night and hand a solid lump of "suck it" coal to the Canucks? I think so.
So let's keep this new year trend going boys, and show those Canucks how we do it here in SJ.
Go Sharks.