Gameday! Sharks v Canucks, Take It To The Limit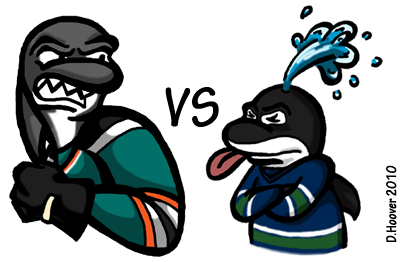 Tonight @ 7pm
CSNCA and 98.5 KFOX
have you covered
Why do hockey guys always look like they're taking bad driver's license photos in their mug shots? The new ones for Wellwood and Ben Eager, both newly acquired members of the San Jose Sharks,make them look confused and kinda disgusted respectively. Only Dan Boyle is like "Hey, I play for an NHL team!" *smile*
Weird.
Interestingly enough Wellwood's first game as a Shark will be against his old team. That has to be slightly awkward. Well, no more so than skating on the ice with the Blues after a long flight in from Russia, only to discover you're now a Shark. Waivers, man, waivers.
Fat jokes aside, it will be interesting to see how the two newest faces do on the ice tonight. The Canucks have become the team to beat,and the Sharks will need to do all they can to get 2 points out of the game tonight. Laugh all you want, it's not impossible. Sure, we don't have a great blue line, and Clowe and Nichol are both out, but we can so do this. Make it 3 boys.
With luck, I'll be able to catch the game in its entirity tonight and post a recap. This entry is anemic considering all that went on this week, but someone had to go a schedule a 9am meeting and if you know anything about traffic in CA, you know that it blows. As much as I might be tempted to blog while sitting, unmoving, in a sea of metal and humanity, I've been told they kinda frown upon that sort of activity.
Go Sharks!