Gameday! Sharks v Buffalo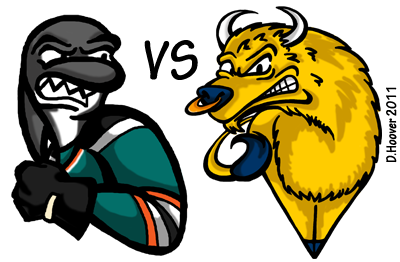 Tonight! @ 7:30pm
CSNCA and 98.5 KFOX have got your covered
If you have tickets and don't go, Clowe will beat yo'face!
The boys are mad. Mad as hell, and hopefully, they aren't going to take it anymore. No one should be surprised when people used to winning, and these guys have been winning at hockey their whole lives, just pissed off about losing. It's the public display of that anger that a lot of Sharks fans have felt was lacking from the team at times over the past few seasons. Showing anger is not considered very professional and in a sort that prides itself on leaving all of that stuff out on the ice, and being very polite and unassuming when responding to media questions, it can be shocking. (This is not to say that I think Clowe was unprofessional. To the contrary. If you're going to call folks out, and not make it personal, take some lessons from Ryane Clowe)
The real question now is, what will that anger produce?
Tune in tonight, and you just might find out.