Gameday! Early Edition and Milestones
Today @ 1pm!
CSNCA and 98.5 KFOX
1000 Games! Go Patty!
So if, unlike me, you have the day off, I'd suggest sleeping in, rolling out of bed around noon thirty, and settling in on the couch with a cup a Joe in hand and enjoy the show. I will be doing my best to listen in from work. Today's a great day to start a new streak. A win streak. A like 55 game win streak. Or 60 or really whatever it takes to get us to the promised land. I don't care that there are under 40 games left in the regular season. That Sharks are going to win like 100 million between now and June.
By the way, it's a special day for one Shark.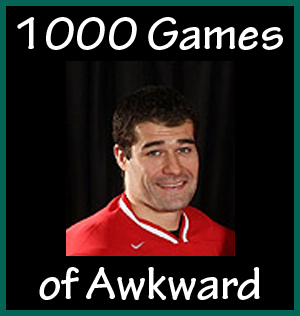 Loooookkkk attt my eyebrows!
Can you believe it? 1000 games of the most awkwardly adorable former Captain the Sharks have ever had. No matter how many buses fans threw you under, no matter how much they challenged your "heart", no matter how many times you stared concerned, and maybe even slightly confused into the camera, you did it as a member of Team Teal. You didn't complain, you just were your normal, awesome, awkward self. We less than three ya, Patty. Here's to 1000 more games with San Jose.
And now, in honor of his 1000 NHL game, here are some facts* about Patrick Marleau's eyebrows:
Patrick Marleau's eyebrows are licensed to kill in 13 states and all of Canada.
Once beat up Alexi Semenov.
Are actually caterpillars.
Wanted in 30 countries.
Patrick Marleau's eyebrows were once Emperor of Japan.
They speak 7 lanagues. Fluently.
You could hide Marc-Edouard Vlasic in them.
Rob Blake once rented them out for the weekend.
Possible location for/current form of the Wonder Twins.
Have their own zip code.
Are honored with nightly rituals in their native Canada.
Can see dead people.
*Actual made up facts