Gameday Back to Back! Sharks v Ducks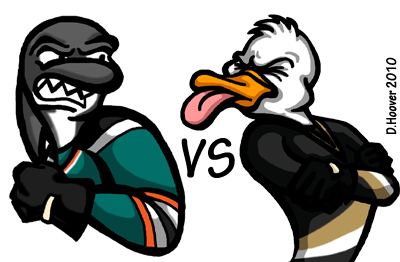 Another early game (5pm start), another chance for the Sharks to show that all the talks they have been having as a group will eventually pay off. They played decently for about half the game last night, but some of their mistakes were atrocious, and it became clear that there were only a few guys on home ice who wanted to win. It was frustrating to watch. I have seen the Sharks win that game, I have seen last second ties and come backs, I have seen the impossible happen numerous times on that ice. For whatever reason, despite all the chatter to the contrary, the Sharks just could not get the job done last night. I told Mina it occasionally is difficult to be the one person offering support and trying to keep belief in the team going when they keep shitting the bed.
I still have hope though. Skids can't last forever, (ignore the Islanders, ignore the Islanders...oh HAI Jersey...) and despite some ah, weak points in the defense, this team has all the pieces, skill and the ability to be really, really, really good.
Someone just needs to get them to believe it.
#throwthegrits tonight, Sharks fans. Show the Duckies who's boss.