Post Game Recap! Sharks v Bruins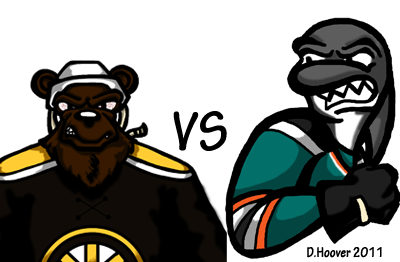 rrrrrrrrrrrr...I eat mammoths rrrrrrrrrrrrrrrrrr
Due to an exhausting week, I missed the first two periods of this game Saturday morning. 10am games are hard for us West Coasters, especially when all you want to do is sleep. Thankfully it seems that I didn't miss much, and the best of the game took place in third, even if Teeth's goal was in the first. (that's what highlights are for amirite?)
The thrid looked fast, we well fought on both sides, and flat out was a good period of hockey to watch. I love seeing the Sharks play like that in the third (or first or second or all game...) Against a team like Boston, they had to bring their A game, and they did just that. They looked quick, they looked composed, hell, they looked like a team. Not only that, they looked like a team that can compete, one hungry to make the playoffs. That's exactly what we need them to be right now.
Apparently, in honor of some unknown holiday, the NHL allowed Nemo to get a shut out. There's this weird law, we Sharks fans are all pretty certain it exists, that prevents Sharks goalies from getting shut outs. It's weird, but convenient pattern finding suggests it's true.
The Sharks did take a few too man penalties on Saturday. From what I saw it was a weird day of calls. Bad calls were nearly always penalized but actual penalties went unpunished for the most part. Well, I guess the refs were consistent, so, that's something.
Next up? Caps on Tuesday.