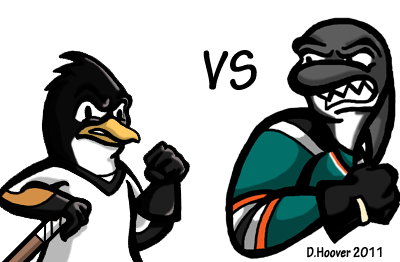 Today @ 4:30pm
Did you catch any of the game last night? WOW. As mymclife said, the Sharks and Wings were playing like it was Game 7. Unbelievable. There was no quit in either team. It was quite the game from beginning to end. The last 2 minutes were as intense as anything. Nail biting. Nemo made some absolutely brilliant saves, Joe scores #300, Clowe was like WAPOWGOAL* and Seto scored again, giving him 10 goals in his last 13 and 5 in his last 2. Suck on that sack of lemons.
The Sharks ride into Pittsburgh on that wave tonight. Back to backs are always tough, although in this case I reminded myself that Detroit to Pittsburgh isn't even as bad as a drive from here to LA. Flight won't be that bad either. The joys of travelling back East.
It's going to be a helluva game tonight folks, be sure to tune in.
*technical term
Umbrella Trick shirts
now for sale!