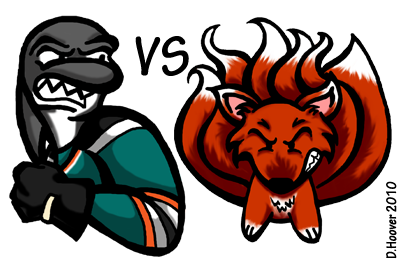 Tonight @ 6pm!
Grab a blanket, a mug of something warm, and watch the game as the rain, and maybe snow(?) pours down outside
Raise your hand if you're still recovering from Wednesday night's AMAZING ending! 4 seconds left in OT and Patty scores the game winner. Man. What an ending. I was in full nail biter mode and I was in my car driving home listening to the game. I swore at MAF when he made that break away save on Patty. I knew Teeth missing that empty net would bite us in the ass, and all I could do was drive and scream at my radio. What. An. Ending. Thing is, because of how they have played the past few seasons (and yes, even this one), I no longer feel like doom is in inevitable outcome. Now I freak out because I KNOW these Sharks can win the game. Can, and did.
What a ride.
The roller coaster doesn't stop in Pittsburgh though. It rolled right on into Calgary where tonight, the Sharks face one of the most annoying teams ever to be conceived of int he Western Conference. It doesn't seem to matter if the Flames are doing well or not, (and right now they are doing pretty well), they always provide a challenge for the Sharks. I would love to see the Sharks come out tonight and bowl the Flames over, thus mainting their winning streak AND their lead in the Pacific. Didn't think they could make the climb? Well they did and the Sharks aren't done yet.