Gameday! Sharks v Devils. Feeling Hot, Hot, Hot!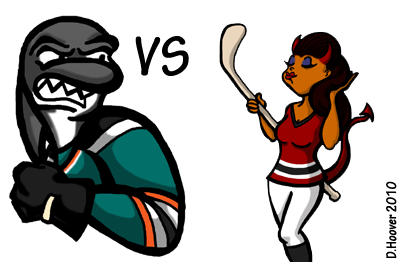 Today at 4pm
Early in the afternoon-o
Completely off topic, but thanks to a coworker, all I can think of when I hear "New Jersey" is now Jersey Shore, and our pal the Guidette Devil up there. I'm not even sure he likes the show, but he talks about it nearly as much as he talks about Justin Bieber and the Lakers. Of the 3, I am pretty sure he only really likes the Lakers, and likes to annoy people by talking about the other two. But the connect is made, and now firmly rooted within the deep recess of my gray matter. I potentially dedicated an entire wrinkle in my brain to that. Several dendrites if nothing else. What a waste of storage space!
Orange Snookie reminds me of tan DW, and I have to wonder if the cast of the Jersey Shore looks at him and wants to be that Tan in their mid life.
One thing none of the people mentioned above, (aside from DW and my coworker who enjoys talking smack about the Sharks), probably never think about is hockey. Which is a damn shame because these two teams are doing their damnedest to prove everybody wrong and not only make the post season, but destroy, (or at least annoy), everyone in their paths while they do it. The Devils certainly didn't have a good start to their season either, and there are some parallels that can be drawn between the journey of these two teams.
For Sharks fans though, the goal is this: another win. That's it. It's that simple. We want two points. Can we get them? 3 periods and some time in between will tell.