Gameday! Sharks v Blues. I Had A Pun For This, But I Lost It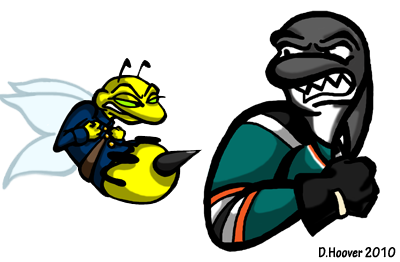 Today @ 4pm
O HAI there Dallas, How you doin'? And here you all thought I was crazy when I said the Sharks could climb back and do this. 4th? Pfft. Well, here they are, folks. Poised to make a run, and potentially even challenge for a top three spot in the West. Crazy what a season will do. Can't count our Sharklings yet, though, there's still a lot of work to be done. Rolling into St. Louis on the second night of a back to back is no picnic. You can believe the STL Blues will be ready to play, and more than happy to try and take the season series. As hot as the Sharks are right now, STL is hot too. As I have said many times before, never ever take the STL Blues for granted. They can and will bite you in the ass when they do.
Tonight's game is going to be good. Here's to two Sharks points at the end.
[Edit] Ok so I totally used the wrong team the first time. Bound to mess something up each season, and this time, I moved Rick Nash a couple hundred miles to the south west. Worked out for the Sharks so, hey, I might have to try that again.