Gameday! Shark v Ducks, Comeback Kids
The night was over.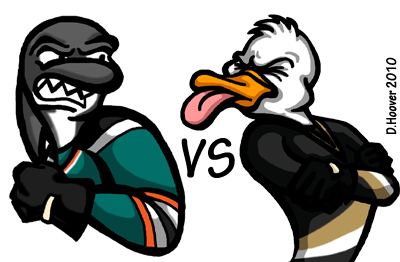 Nemo was pulled. Our Stalock who art in net was in. Hockey be his game. For every shot that was on net, he saved it all the same.

Then a glimmer of hope. Joe PA scored within the waning seconds of the second period to make a 3-0 blow out a 3-1 game with potential.

The game returned in the third and while the idea of coming back from a 3 goal deficit floated in our minds, with the way the Sharks had been playing it was all but impossible. Thankfully no one told that to Joe Pa, who scored another goal to bring the game with in one.

Kyle Wellwood finally got a proper welcome form the home town fans when he scored his first goal as a Shark to tie the game. Assist from Eager. Welcome to San Jose, guys.

Then, signaling to all the impossible can not only occur, but it can strike multiple times in one game, Patty gets a break away and scores to make it a 4-3 Sharks lead.

Whoa.

The last 4 and a half minutes of the game were tense as hell. I was yelling at my TV. Despite crawling back the Sharks started ot look lost, they couldn't keep the puck out of their zone, oh the humanity! Then Jumbo scored an empty netter making it 5-3 and everyone immediately cheered in ecstatic relief.

Stalock getting a warm welcome from the home town crowd was great. This kid is amazing. In fact he's so good he already won a game three days from now. He's THAT FAST. Just you wait.

The question is, will this carry over into tonight's game against the Ducks? It has to. The Sharks can't keep doing what they did for the first two periods last night. This is crunch time. You want in the playoffs? Time to turn it up to 11. Keep it there until your ears bleed. Don't fall back into the same pattern. Beat the Ducks tonight. Get two points. Rise.

Let's be honest here. Last night was looking grim. The first 40 minutes were a showcase of confused, convoluted, crappy hockey from the Sharks, while the Yotes put on a clinic on how to take advantage of the other team playing badly. When Biz scored, it was all but over. Sure,the tweets about it will be hilarious, but really? You guys let Paul Pissonnette score? Wow.