Gameday! Sharks v Yotes, Take 5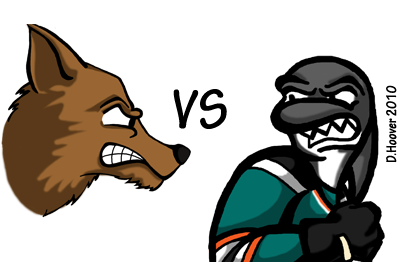 Tonight @ 7pm
Semi early start!
The goal tonight, I think, is two fold. One, make up for that horrible performance against the Ducks on Wednesday. It was so bad I didn't even know Thornton didn't play in the 3rd. Seriously. Yeah. Two, keep and eye on the 2nd place prize. It's not a necessity but it's within reach, so why not go for it?
The Sharks would do well to keep that miserable game in mind because, were the playoffs to start today, they'd be facing the Ducks. They could very well be our opponent in the first round, and we don't want a repeat of 09.
Stick taps to JoePa
for getting a nod for the Masterton
. It's really great to see a player like JoePa getting some recognition for all the stuff he does both on and off the ice.