Gameday! Sharks v Kings round 1 game 4, FIGHT!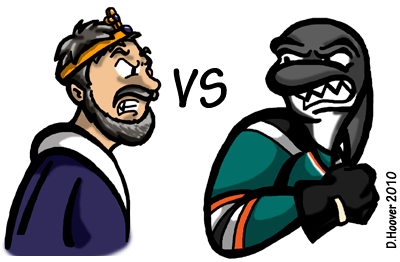 Tonight @ 7:30pm
History will be made
Have you seen this?
I don't even know what to say.
The utter elation and excitement felt at the end of that game was unreal. It's only a 2-1 series lead, we all know that, but to watch a team that has been ragged on for being lacking grit and heart, and being all kinds of other cliches in hockey and sports come back from being down 4-0 in a playoff game is simply one of the most amazing things I have ever seen. These are not the Sharks of 2006 who got rolled by the Oilers, or of 2007 who seemed to give out after leading the Wings. These are not the Sharks of 2008 in Dallas after barely scraping by against Calgary or 2009 failing miserably against the Ducks. No, These are the Sharks that stood up last year and made it to the WCF. These are the Sharks that were in 10th place in January and rallied back. These are the Sharks that we always knew they could be.
These are the Sharks that will put to the test once again tonight in game 4. Some say LA has more to prove after game 3, I say the Sharks do. Live up to the promise of that performance. Come out and show the world that you KNOW what good hockey is and you can play it. Give a clinic on why you're the best, and show everyone that this is the year history will be made.
Go Sharks!