Gameday! Sharks v Kings round 1, game 2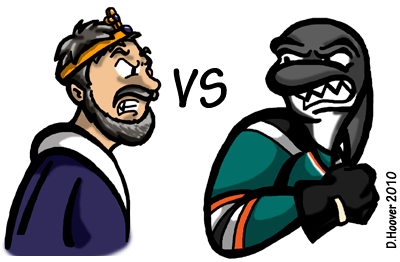 7pm start tonight. Set your swatches.
Sharks lead series 1-0




It's time for game 2 everybody! A game in which teams can either solidify a series lead, or tie it up and make things more interesting for everyone involved. (In this case, I say too interesting, but that's just me.) Stoll is out, White is too, meaning that either Husky Huskins or Inception (Braun) will be filling in in his place.
With the start of the playoffs, the annual tradition of growing a playoff beard has begun. The internet has seemed to pick up on the fact that women can't go these, and is starting to show some faint hints of concern for the feelings of their female brethren. Even Puck Daddy covered this topic, which is to say it's now a popular one. Let me put your concerns to rest on this subject once and for all, dear readers.
I do not gave a rat's ass about the fact that I cannot grow a playoff beard.
I don't. It's never something that's been an option to me and I have never felt that the fact that I cannot grow facial hair in excess makes me left out of a grand tradition. The idea of having a face warmer attached all the time, during the summer months no less, is not appealing. I enjoy seeing guys get into it an grow beards, but to be honest, it's pretty much the only way they can show support for their team (save for chest paint and a large does of personal pride). We ladies have far more options, and this, I think, gives us an advantage.
Many women chose to go a similar route to beards, not shaving their legs, arm pits or nethers for the duration of their team's playoff run but that's not for me. If you feel like the only way you can support your team is to be able to hear the call of the wild coming from your legs, then fine, but keep those suckers covered up while you do that. Same for your arms. Ladies, it may be "natural" but it doesn't look good. If you want to grow it out, keep those pits covered up. You may feel it's a worthy sacrifice, but no one asked me to suffer along with you.
I prefer to take a different approach entirely. I'm a fan of obnoxiously sized earrings so, I have a small, but growing collection of teal ones that can be worn to playoff games. My favorite pair consists of a teal painted shell and black sharks tooth hanging down on top of it. I have large, glittery teal rectangles, and an assortment of other teal options all of which are sensible enough to wear to work while still screaming "SPORTSFAN" loudly at anyone who will listen.
I also support getting your nails done (or doing them yourself) in your team's colors. Mine are currently the closet shade to Sharks teak I could find (the Target by me was SOLD OUT of teal nail polish). You can also dye your hair teal, or put in teal extensions, ribbons, or a lovely teal wig. Teal eye shadow is a great options for those ladies who can wear it, as are Sharks themed face paintings. (Admit it, girls can get away with that way easier than guys. Unless you're this guy, it's just not going to fly with the dudes at the bar.)
Team jerseys, t shirts, tank tops, hoodies, all also complement the female sports fan very easily, as do goofy hats for those who have the confidence to been seen in them. (I have this one)
So you see, I don't care if I can't grow a beard. I have all sorts of options available to me, and because I'm a chick, I can dress like atotal dork to go to a game, and still look cool. Let's see your beard do that.