Gameday! Sharks v Kings round 1, game 1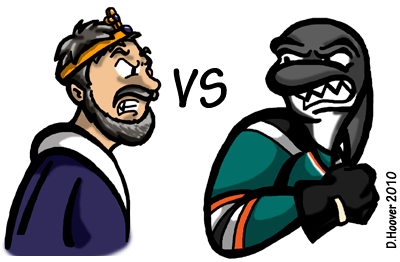 Round 1 starts TONIGHT! @ 7pm!
Here we are, face to face, a couple of California teams…

The playoffs are here, ladies and gentlemen. Round one, a round many thought during the regular season that the Sharks wouldn't see is upon us. It feels like just yesterday it was October, and the season was off to a rough beginning. A few hours ago, it was December, and the Sharks season was very uncertain. Today is the start of round 1 and the Sharks are entering it as the number two seed in the West and as the Pacific Division Champs for the 4th straight season in a row.

Tonight they face the Kings in the first game of a best of 7 series. Riding on the line is advancement to future rounds and the right to battle for ultimate glory. The Sharks of the first half could not handle this matchup well, but these are not the first half Sharks. These are the Sharks that roared back to move from 10th to 2nd. These are the Sharks that showed everyone why they're perennially one of the best teams in the West. Expect a battle, it's the playoffs after all, but expect the Sharks to bring it. This isn't October, and it's not the Start of the regular season. This is the start of the second season, the playoff season, and you ain't seen nothing yet.