Gameday! Sharks v Kings: Battle for best in the West(Pacific)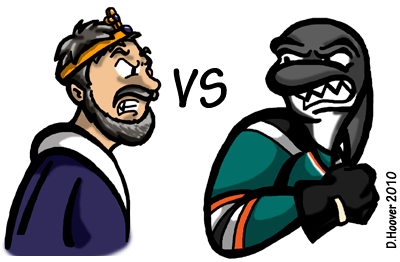 Tonight @ 7:30pm!
Jamie and Drew, Randy and Dan too!*
Mixed it up on ya!
So this is only the biggest game of the young season. No pressure, or anything, right guys? "Keeping pace" with the Kings has been on every Sharks fan's mind since the beginning of the season. The Sharks have had a somewhat slow start while the King shave been red hot. With the Ducks and Stars sitting idle, tonight's game presents the perfect opportunity for the Sharks to gain some much needed space between themselves and their Pacific Division brethren. A point behind the 'Yotes and 4 back from the Ducks, tonight's game presents what could be the beginning of a fight for the Pacific, should the Sharks be lucky enough to beat the Kings. They have the skill, and the talent, but do they have enough of those skills working together, at the right times, to beat the raging Kings? Only time will tell.
Just dooo eeeeeettttt.
Go Sharks!