Gameday: Sharks v Flames on the Back to Back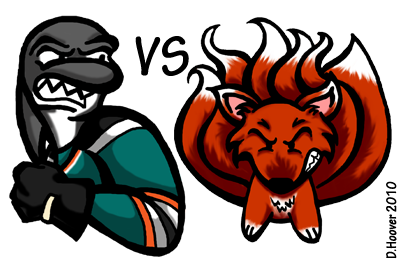 Tonight at 5pm.
EARLY START!
Randy and Draw and Jamie and Dan too!
The Sharks are coming into this game after a GREAT 6-1 win over the Oilers last night. While the Oil may have gotten the first goal of the night off a bad coverage decision by the Sharks, they paid fo rit in spades seeing 6 different Sharks score. McCarthy ("The McCarthy Era") got his first ever NHL goal, while Couture, Clowe, Heater, JoePa and Danny B all scored to help pile on the points during this rather impressive win.
If Pavelski didn't have an assist on every goal last night, he deserved on. The Dude Abides.
Look for 5 on 5 scoring to get going for the top line tonight. The 2nd, 3rd, and 4th lines have been doing their part since the start of this early season. Now that Heater has scored, it's open season on opposing goalies.
Last night the Oilers were like BOOM and Niitty was like WAPOW! If he's not in net tonight, I'll be surprised.
Let's do this thing and get a win.
Go Sharks!
And congratulations to the Giants for clinching a spot in the World Series! Games start Wednesday, same night as Sharks v Devils.
Take Texas DOWN!