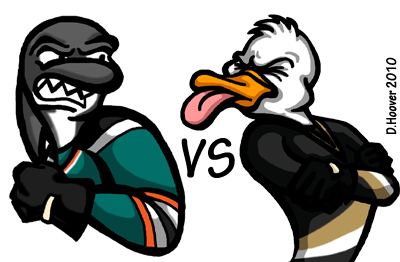 Tonight @ 7:30pm
Jamie, Dan, Randy, Drew, and Brodie Brazil too
CSNCS & KFOX

A familiar chant should echo through the streets of downtown San Jose tonight, as the Ducks make their way to town. Perhaps our most hated rival, at least in the current era of Sharks hockey, games against the Ducks have a tendency to be rowdier and more playoff like than most. Located close enough to each other than fans of the opposing side often car trip up or down to games, the Tank becomes a field where very clear battle lines have been drawn.
You shall hear duck calls, see rubber duckies being chewed by various forms of stuffed, puppet like sharks, and here they cries of "DUCKS SUCK!" *clapclap* echo through the halls of the Tank.
Tonight we fight not just for honor, but for a chance hit double digits and shorten the space between ourselves and the Kings.We also fight for bragging rights and the ability to TP the other guy's rink. It's nearly Halloween, man, all bet are off.
Watch out Duckies, here we come.
Go Sharks!