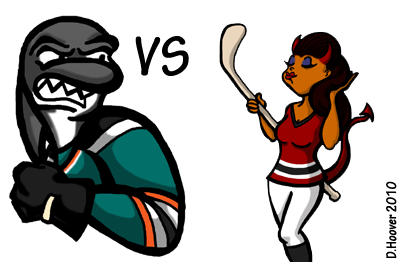 Tonight @ 7:30pm
Jamie and Drew and Randy and Dan too.
Also on NHLN-CA and NHLN-US
(you had to know the Snooki demon was coming back)
Not sure what to make of this one. Neither team has won on home ice yet, which gives the Sharks a rather dubious disadvantage by being at home. Then again, the Devils have had what can only be described as a horrible start to the season. Do they have a "full" team yet? I'm not sure. I believe Drew said minimum you have to carry is 18 guys, and I don't know if they found a way to get there or if they're still lingering around the 15 mark.
The Sharks need to take advantage of New Jeresy' beleaguered start and start scoring 5 on 5 tonight. Get all four lines rolling and the game will be golden.
Go Sharks.