Game 2. Sharks v Blue Jackets, Stockholm Style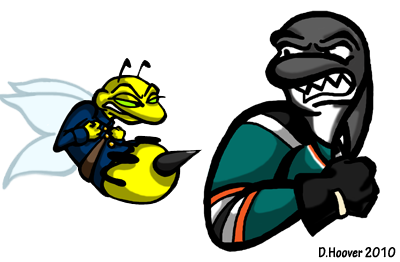 Today at 12 Noon. Coverages starts on CSNCA at 11:30am
Also on KFOX at starting at NOON
YAY for Randy and Drew!

Yesterday's game showed us that the Sharks still have a way to go with their communication before they really start clicking. After a great first period, which saw them score not one but TWO goals, they looked sloppy and rushed for most of the second. The D made some costly errors which resulted in Columbus tying it up in the second in what I think was one of the fastest times ever. Can't remember if that's opening night or just in general, but needless to say, some fans started to immediately throw Niemi under the bus.
Personally, I think he preformed well. It will take a little while to get used to seeing him in net, and his style is very different than Nabokov's, but he did his job and aside from a few shakey moments he looked sharp in net.
The Jackets didn't change much over the off season, and despite their obvious D issues, the Sharks are the stronger team. Despite that, I still hold my breath every time Rick Nash has the puck. Stupid Rick Nash, being good.
In case your wondering why it wasn't a sold out crowd at last night's game, and why it's likely to be a similar scene in the Globe tonight, tickets were running $110 US for the cheap seats. I don't know how Sweden's economy is, but that's expensive. A little too expensive.(I swear I saw that on Working the Corners, but I can't find it right now. Sorry for the lack of link.)
Jamie McGinn is
reported to be a bit stiff but otherwise ok
after last night's nasty run in with the boards. I still don't think Commodore was guilty of boarding, but I am glad to hear McGinn is alright. Scary play.
Nitty gets the start.