Gameday! Sharks v Wild and Congrats to the Giants!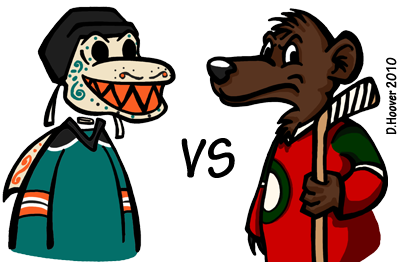 Tonight @ 5pm PDT
Versus and 98.5 KFOX
No Randy and Drew, But Dan and Jamie will be with you
Don't forget to VOTE today!!!
Don't care who you vote for or what, just vote.
First off, and I am sorry I don't have art for this, but I want to congratulate the SF Giants on their World Series win! Very well deserved boys. Mina, as you might guess, is beside herself with glee. For those of us who cannot make tomorrow's parade in the City, CSN will be streaming it online. My twitter feed also says ABC might be doing the same.Time to slow down you connections at work, folks.
Again, congratulations Giants!
Onto the business of hockey.
The Sharks will be looking to extend their win streak to 3, while the Wild will be trying to counce back from a loss to the Hawks last week. The top line is clicking, the goals are scoring, and the goalie is tending like it should be. Things ae starting to click for the team in teal.
Here's hoping Nitty is back in net again tonight. He's looked solid these past few games and you gotta ride the hot hand. He's making a bid to become number one, not just 1a (or 1b), let's see if he can do it. Keep that man in the net.
Let's do it.
Go Sharks.