Gameday! Sharks v Colorado.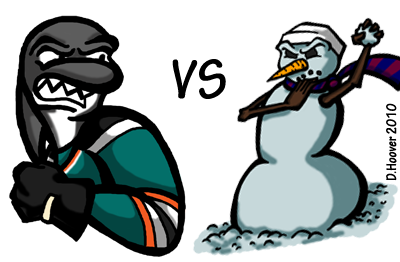 Early start! Tonight @ 6pm
CSNCA and 98.5 KFOX have you covered
Jamie and Dan and Randy and Drew
Maybe the Bringer of Doom Award too
So last game was epic. It was easily the Sharks best and most complete performance so far this season, and I think it reminded everyone why the Sharks have been the best in the division for several years running. They played the way we all knew they could, now let's see if they can sustain it. Going into Colorado, the Sharks are riding a 3 game winning streak, while Colorado is busy recovering from a spat of injuries that has struck the club early this season. Both teams are searching for a consistent 60 minute game, but, in my biased opinion, the Sharks are closer to fully realizing that, and it's way more important for them to play another strong game tonight. What can I say, I like me some doubleyous.
Niitty was absolutely AMAZING in net last game, but it's clear TMac wants Nemo to play too. We'll see who gets the start tonight. (I'm hoping for Niitty!)
Go Sharks!
Beat them Avs!