Gameday! Sharks v Blackhawks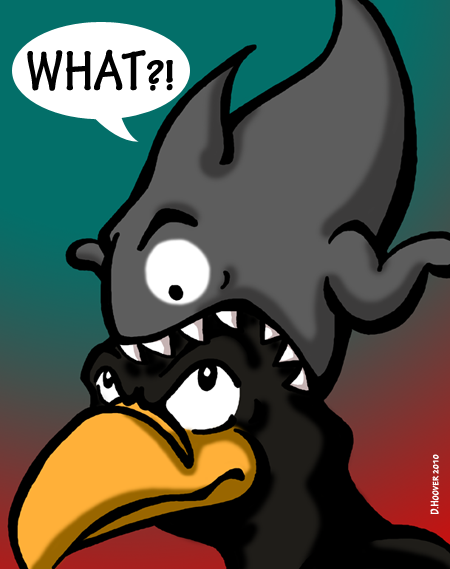 Tonight @ 7:30pm
Randy, Drew, Jamie, Dan and Brodie too

Sharkswin SharkswinSharkswinSharkswinSharkswinSharkswinSharkswinSharks
Ok, I know, I recycled art but, between work, hurting my arm a few weeks ago, and work again, I just didn't have the time to make a new image that would sum up this new found rivalry quite as well as a shark attempting to eat a (black)hawk would.
I wouldn't say I am nervous about this game as much as I am hopeful my attendance (and Mina's) will result in a win. I'd feel better about it if the Sharks weren't coming off a flukey set of losses, but two games worth of bad luck and back bounces has me worried. Worried that it might continue tonight! I know the Sharks are good enough to beat the Hawks, no matter what last post season says, but going into to it cold and unlucky is just a bummer, you know?
There was an article I didn't get to read about the Hawks knowing where to shoot on Nemo if he's in net. Whoopdie-freaking-do. The Sharks know where to shoot on Turco too, and I don't seen an article being written about that. Sure Turco wasn't on the team that won the Cup last year but neither were 29 other teams worth of people. That's not much a of a newsstory either. Stuff like that drums up drama for the game though, which breeds interest, which hopefully translates to eyeballs watching tv screens, which is good for the Sharks, and so, I am ok with it overall. Plus, like I said, I didn't read it. Hard to fully judge something I saw the headline for.
But, as always, we strive to maintain unresonable amounts of positivity (Thanks, Sleek) here, so let's get to the good stuff shall we?
The Sharks are playing again.
It's so cold out the ski season is opening early.
We've been getting rain, but the Guadalupe River hasn't flooded games out. Always a plus.
The game is a good excuse to wear your jersey to work.
It's probably a day off for most people. (It's not for me, but I am getting paid, suckas!)
The Sharks are playing.
The Sharks are playing.
and..oh yeah,
The Sharks are playing!
Let's do this thing, boys! Show those Hawks who's boss! It ain't Tony Danza.
Go Sharks!