We Got Your Eastern Conference Final Right Here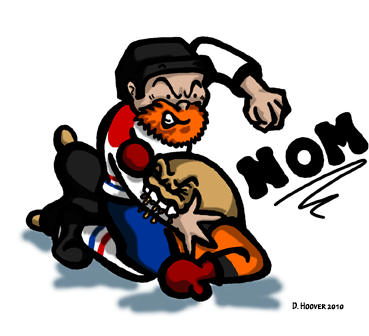 The battle continues today at 4pm Pacific on Versus.
Also on CBC and RDS.
Flyers lead series 2-0
And now to get back to what you're all here for, commentary on the Sharks.
I figured there'd be no shortage of articles about both the team and game two yesterday, so I wasn't inclined to add to that madness. Instead I wanted to give it a day to settle before jumping in.
Being down 2 games to none is hardly ideal, but it's where we are. While not surprising, it is disappointing to see a bunch of the same people who 10 days ago were praising the Sharks now calling for their heads. That's pretty much how it goes every post season. Win 5 and everyone loves you. Lose 2 and the world shuns you.
Thing is, if you've stood by this team all season, you should know better than to try and jump off the bridge now. They're good, we KNOW that, we've SEEN that and we still need to BELIEVE that. Yes, they may lose this series, but they may also come back and win it. Don't count them out just yet, they still have at least two games to right this ship and get her sailing again. If any team can take 2 games on Hawks ice, it's the Sharks. Why? Because we know they can play well enough to do that. And they believe that. They believe in themselves. There are no mind games here, no demons telling them they can't win. Those are gone. They can do this and they know it.
Take a good hard look at yourself in that teal mirror and see if it's you Dan Boyle is
flipping off right now
. This teams WANTS THIS. Now they just have to go out there and get it done.
Go Sharks.