Gameday! Frakking Finally!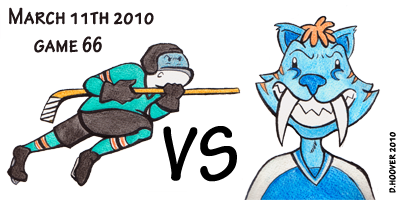 Tonight @ 7:30pm! Whoo Tank!

5 day between games was too long! We went from hockey every day with the Olympics, back to a regular NHL schedule and Versus supplementing us with a full week of games to NOTHING FOR FIVE DAYS!! Ajskdjaskfjslfmslfksflldg;f;sf;as
It was rather difficult to handle. To quote Poe*, "another day and I could have gone mad."
Nichol may or may not be back for tonight's game. If not, expect to see Vesce in his place.
This is the last time we'll see the Preds this regular season. Marcel Goc has been excelling in Nashville, which is super good for him and mildly annoying from a "why couldn't you do that for us" perspective. He clearly did need the change of scenery to hit the next level, so, good for him.Just don't score against your old buddies, eh Marcel?

The Sharks have taken two games in this season series and dropped one. Oddly every game had the same final score of 4-3. I'm not sure what to make of it, but it's a curious coincidence if nothing else.

*not Edgar Allen, though he probably had similar thoughts at various times through out his life.