Gameday! Early Afternoon Games That Follow Late Nights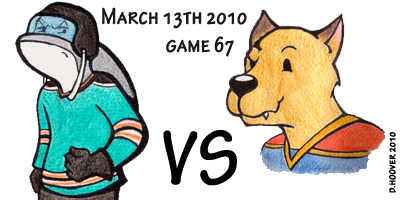 ...lead to very short game day posts. I'll add a recap in here after. Until then, enjoy the matinee game!
RECAP
In an odd reverse of the past 3-4 games, the Sharks had a strong first period.
In an equally odd reverse, they had a very weak 3rd period.
And then they lost in OT.
Total win fail.
This whole home stand has been a tad wacky, but, after Thursday's amazing come from behind to pwn Nashville victory, I think the majority of us felt like the Sharks had figured out what was wrong and gotten their act together. And as it turns out we were right...for one period.
Patty got his 41st goal of the season, and Clowe, yes RYANE CLOWE started of the scoring by getting the first goal of the game! WHOOOOO! He looked pretty decent all game. That was really awesome to see. Go Ryane, Go!
The Sharks came out totally flat in the 2nd and to be honest with you all, the third was so boring that I fell asleep for the last 10 min + the OT period. I woke up to hear the CSN guys saying the Sharks had lost in OT and "how did we get here?"Well, I'm no Einstein but I assume you got there by losing. You know that part in the 2nd where you started skating around like you'd already won and there was no real need to try anymore? Yeah, I suspect that had something to do with the eventual loss.
This is also why when Mina says to me "Come on...It's the Panthers!" I refuse to be lured in. Any time it's a game the Sharks should win easily, I just assume it's going to be this annoying back and forth with a suddenly hot team and hot goaltender because that is what happens. Or, the Sharks will do what they did today and just kinda stop playing in the 2nd. Either way, it won't be good.
I suspect it will be a rather quiet flight to Orange County tonight.