ajsakdslkfkasfkj Sharks WIN!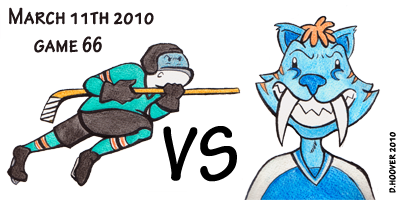 I...wait...what?!
I'm sorry i thought you said SIX GOALS IN THE THIRD! Oh, you did. HOLY CRAP!
I do not understand this!
The first two periods sucked fat booty for the Sharks. They couldn't connect, it took Dany Heatley scoring with like 6 minutes left in the first  in to get their first shot on goal and there were more Sharks turn overs than a San Jose bakery. San Jose had no shots for way too long and was being out shot by a 2-1 margin for most of the game once they finally did start putting shots on goal.
It was a bad bad bad bad game. Bad game. Unless you're a Preds fan, in which case it was a great game. After 2 the Preds were leading 4-2. The Sharks looked HORRIBLE. Just atrocious. Unacceptably terribly bad through two.
And then...something happened in between the 2nd and 3rd.
I don't know what. Clearly someone said something.
The Sharks scored 6 goals to come from behind, tie it up, fall behind again, tie it up again AND WIN.
LOLWUT
Word fail me.
My mind is blown.
As soon as Joe Pa's backhand spinorama double mctwisty 1080 is posted, I'm embedding it
UPDATE! Embedded. Whooo!
h/t to evilducks
It was...I don't even know. Amazing doesn't cover it. Randy Hahn was calling it and just screamed "WAHHHHHHHHHHHHHHHHHHHHH!!!!!!" into the mic. It was crazy incredible!
So much for the idea that this game would end 4-3 too.
Wow.
Just wow.
Oh Captain, My Captain Patrick Marleau scored his 40th goal this season. 3rd Shark to hit a 40 goal season. Ever. WIN!
Two maybe kicked goals, one disallowed for Nashville, one allowed for Manny (because he was being Manny)
That game beat everyone over the head with a crazy stick.
I just don't even know.
The Todd reminds us all that the Sharks MUST player for 3 periods, not just 20 minutes. But if you're only going to play for 20 minutes, well, that was the 20 minutes to have. (60 would be better though!)