The Great Baseball Roadtrip of 2010, Part 1
Ah, baseball. America's past time. It fills the long hot months between the Cup Finals and the start of the regular season. Steamy summer nights (or for those us in the Bay Area, freezing cold foggy ones), over priced watery beer, hot dogs, the crack of the bat and the good old roar of the crowd. Baseball. It was made for summer.
We set off on our epic journey last Friday, heading down the long and dusty ribbon of road known as I-5 on our way to a weekend of baseball filled madness. We made good time and spent a lovely balmy night enjoying Thai food and debates over right of way (human walking in front of traffic +fast moving car= it doesn't matter who has right of way. If you're the human side of this equation, you just lost.) in Old Town Pasadena before retiring to our temporary home away from home in Toluca Lake.
We headed of Saturday morning to our first ballpark, Petco, down in San Diego. Anyone familiar with southern California geography will tell you this isn't a 4 hour drive. In our case, it was. Fate blessed us with a steady supply of accidents to drive past, causing us to arrive in SD just a scant 90 minutes before the 5:35pm start. We checked into our hotel, dropped our stuff off, then headed down to the ballpark.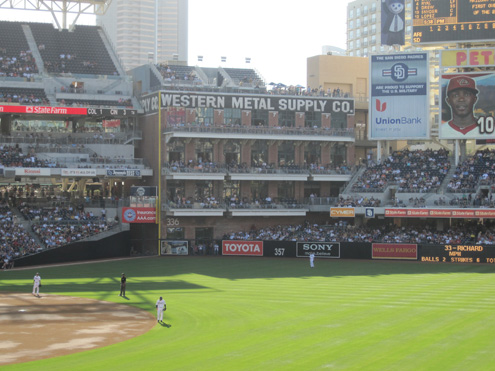 I love Petco. I had never been to a game here before so I had no idea just how lovely this park really was. Seating is open, the walkways provide endless views of the field, the concessions are actually good, I don't think you can find a bad seat in the house, and the grassy hill out back that provided folks a chance to come and picnic and enjoy a game for $5 was brilliant. A prefect fit for the generally pleasant weather in SD. The way they worked the old building left standing on the property into the park was also genius, and I really enjoyed the little standing room only spot in provides fans at field level. You can stand there and watch a game, right next to the outfield! Fantastic.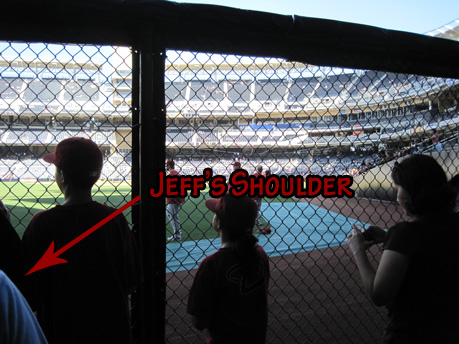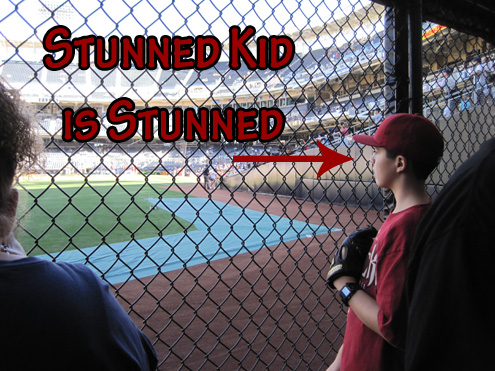 The Padres were facing the Diamondbacks on this night, which lead to a small protest being assembled peacefully outside the park's entrance. Few Diamondbacks fans were in attendance. It was mostly a sea of people in blue hats. This probably was due, in large part, to the fact that it was free giveaway night and everyone got Padres hats as they entered the ballpark. This was my main reason for rooting for the Padres that night. They gave me a free hat.
I am easily swayed.
(in my defense, it's a quality hat. It really is.)
The Padres also have one of the greatest signs ever. GO TACOS!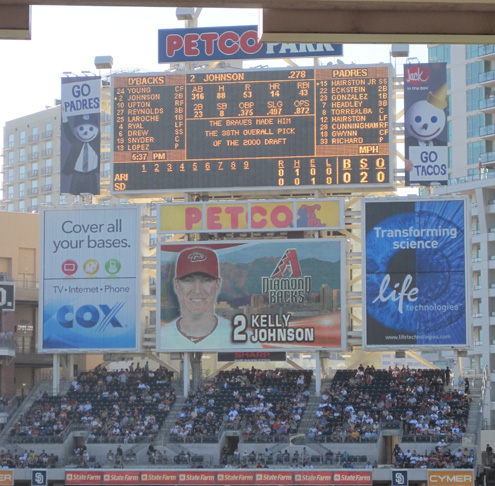 The game was great. The lead was back and forth all night, and there were 4-5 home runs total over to course of the game. The majority of those from the Padres. That in and of itself is such a rare feat it would have made the game even if it had been less enjoyable. (that was a baseball joke for those of you paying attention)
The Padres ended up winning the game 8-5, sending the crowd home happy.
The rest of my party went out to see Despicable Me after the game, while I retired to the hotel for a workout and some much needed shut eye. We were due to be out of town by no later than 9am the following morning and I wanted to make sure I got my 8 hours in. No one likes a bitchy Gray. Especially not when they're forced to be in a small car with her for several hours. I can be quite moody when sleep deprived and forced to be up and about before breakfast.
I chose WISELY.