The Great Baseball Roadtrip of 2010, Part 2
Part 1 of our journey through the ballparks of the Southland can be found here.
San Diego's cool and foggy morning greeted as as we arose and headed down to the parking lot to once again stuff Mina's car full of bags and humanity. We settled in for the 90 minute drive to Orange County and sped off down the misty highway. Unlike the previous day's drive, this trip was uneventful and accident free.
We arrived in Tustin/Irvine at The Market Place, a shopping center off 5 that has grown considerably since last I saw it in 2005. We had a late breakfast at a Jamba Juice before wandering around the center in the hopes of finding an ATM before we hit Anaheim. Time sufficiently killed and monetary paper units acquired, we headed off towards Angel's Stadium.
Let me tell you something about this ball park; I hate it.
I hate it with the fiery passion of ten thousand burning suns. A resident of the area during the 2002 World Series, I grew to hate all that is Angel's baseball. Those stupid thunder sticks, the sea of bandwagon read, those two stupid hats out front of the ballpark, I loathe it all.
I had been here only once before, to watch my A's play the accursed Angels, and I had sworn never again to set foot inside this ballpark. The A's had won that game but so annoying was the experience the best part of it was when a sudden Thunderstorm rolled over the field and dumped buckets of rain down on the stands. I had agreed to do this trip knowing the risk of setting foot inside this place of darkness would be great, but hoping that they would just drop me off at Art Supply Warehouse in Garden Grove for the game's duration.
It was not so.
The up side to this journey was meeting Earl Sleek of BoC fame. Reluctantly, and spouting off a fantastic fountain of obscenities, I entered the park. If Mina was going to enter Dodger Stadium the following day, I too would have to face my enemies in their own home.
The park is nothing special. Built in the slightly older style, it's concrete walls and run of the mill concessions remind me of late 1980s and early to mid 1990s baseball. There is nothing special here.
We climbed northward, finding out seats in the uppermost deck and squarely in the hot burning sun. After about 5 minutes of sitting there, now covered in sweat and whatever that is in the air in Orange County, we decided to move up into the shade. Our friend "Ivy", who was on the journey with us, was really tempted to tell the little man directing folks to their seats we were moving. We convinced her not to. It's pretty much an accepted practice in baseball to move to different (e.g. better) seats and then vacate them once the proper owners arrive. This game was NOT going to be sold out, so we took refuge in the shade covered seats above and stayed there for the duration of the game, unmolested by the actual ticket holders.
This game was one of the most boring games I have ever witnessed. So boring was it that I actually fell asleep. TWICE!
The highlight was meeting Sleek. Of course, he's also the one who said he was feeling extra innings that day, so I blame him for making us sit through 10 innings of sheer boredom. He also tried to buy booze with an expired license, which led to some hilariousness and as he was denied his jack and coke. Yes, it's true, the man pouring the drinks would have likely noticed his license had expired and not allowed him to purchase the booze but you don't OFFER that information. You wait and see if you can buy the booze first, then admit to expired license. (or, as we suggested later, you don't let your license expire, but that's clearly beside the point.)
Sleek decided to be far too honest for his own good. Ivy had to buy him his drink, which I found tremendously hilarious.
I tried to get Sleek to admit that Rudy Kelly is in fact a) a figment of his imagination b) a robot or c) a chick, but he would do no such thing. He claims he really does exist and that he has a real name. I find this claim dubious at best. He really seemed to get a kick out of my desire for Rudy Kelly to be a woman though. Someone that vulgar and hilarious, yet unseen by most of the BoC staff HAS to be a woman. And probably a hot one at that.
To those who have not met us before, Mina and I have to resemble a whirlwind that speeds towards anyone in our path and sucks them up only to dump them 20 miles away confused and worn out. Add Ivy into the mix and I fear we may be more than most men can handle. Our friend Jeff, also on the trip, is used to this and spent the game actually rooting for his Mariners to win (which they eventually did, 2-1. We all stood up and cheered and watched as our section first gave us some dirty looks then quickly fled towards the exits), while Sleek seemed slightly overwhelmed by our oppressive female force.Game over he seemed to want nothing more than to have a smoke and then make a hasty retreat back to his home, far, far away from the cacophony that is Couchtarts live.
But we're coercive, you see. You don't meet us for the most boring baseball game in the world and then get to leave scot-free. No, no, we force you to come to dinner with us as well. Sure we may have talked hockey and sci fi during the game but there is so much more we could discuss. Join us, Sleek. JOIN US!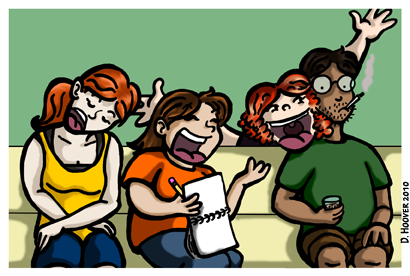 From screen left: Gray, Mina, Ivy, a very scared Sleek
So he did.
I'm sure he learned way more about us than he wanted to over burgers, and then coffee, as we met up with an old high school friend and chatted the evening away. At one point he said "...but back to the Hills..." stopping all conversations dead in their tracks. Seriously, Sleek, the Hills?
The sun setting and the hot arid lands of Orange County growing cold, we stumbled out into the fading sun and bid Sleek and our friend adieu. Once again piled into the car and headed back up to LA. Tomorrow would be the last of our games, and perhaps the biggest. Tomorrow featured the Dodgers and the Giants at Dodger Stadium.