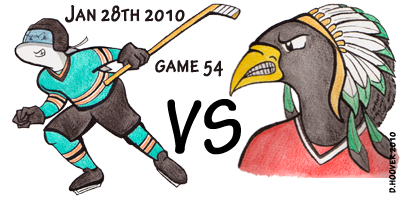 Aw...frak me...
So Mina and I have this habit of watching major political speeches and IMing comments back and forth. Sometimes they're witty, or they spark a short discussion on a point the speaker raised, but most of the time we're sitting there making fun of the audience and filling in the invisible speech bubbles above the heads of whoever happens to behind the President/ on screen at the moment. It doesn't matter what party, what event, this is what we do. Why? Because Sharks hockey isn't on.
It's true. Faced with staring at a vast expanse of nothingness (blank screen) or major political addresses, we'll take the major political address. It has nothing to do with us being nerds. No. Nothing at all. I mean, we couldn't be any less nerdy! We have a blog...crap.
Well, it's a sports blog, so that has to subtract some nerd points. Right?
What does all this have to do with the Sharks playing the Blackhawks?Well...uhm...you know, I'm not really sure.
Honestly, I'm terrified of these guys. They've beaten the Sharks like a well used punching bag. We do not speak of the three short handed goals against. We pretend that never happened. It was hugely embarrassing. I don't even think I watched all of that game. I don't remember. It was so bad I blacked it out. In fact, I've managed to forget every game against the Blackhawks this season. I have to. For my sanity. I mean, wtf do I write?!
*deep breath*
Ok. It's not all bad. The Sharks have won one game against the Blackhawks this season, albeit by the skin of their collective teeth. And the Sharks did do well against the Sabres, a fast and talented team. Not as fast as Chicago, but pretty fast. (although, was it just me, or was anyone else missing how that last game was the fastest of the season. I didn't feel that it was.) And the Sabres DO have CFR and Grier, formidable foes to be sure. They all seem to be able to keep their shirts on, unlike the Blackhawks. This may or may not be an important factor. Shirtless Joe's power of shirtlessness should be enough to nullify Kane's obvious lack of shirtless power, but whether or not that can nullify the Blackhawks scoring chances remains to be seen.
Dan Boyle may or may not be in. He got hurt, then he got the flu. What a combo.
On a more serious note, tonight is Haiti Relief Night at the Tank.I know a lot of us (myself included) have already donated what we could, but these people are in some seriously bad shape, and they need help. So, if you have is an extra buck or a handfull of change, and it won't break the bank, think about donating it. Donations will benefit UNICEF. (details about their programs and how much of your donations is going to Haitian relief.)