Gameday! When did the Kings End Up In 8th?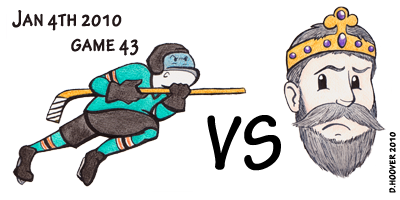 Tonight @ 7:30 CSNCA & 98.5 KFOX
Tonight's enemy blog: The Royal Half
Seriously, weren't the Kings just right on our heels like 2 games ago? Couldn't we feel their hot, Santa Ana Wind* like breath on our heels? Tendrils of black and purple snaking towards us with deadily grace? Their push to unseat the Sharks as the top team in the Pacific nearing completion. The dead rising from the grave! Human sacrifice, dogs and cats living together... mass hysteria!**
When did they drop to 8th in the Conference? Does it matter? Won't they still be just as dangerous tonight as they were the last time we saw them? (a game the Kings won in OT, in case you'd forgotten)
The short answer is yes. The longer answer is maybe more so. The Kings know that not only can they win here, they can force this team to go to a shoot out as well, which makes it anybody's game to take. They have the tools, and they have the talent.*** They're confident now. I wouldn't under estimate that.
In related news, NHL.com had an article up this morning talking about Woostah Shark Benn Ferriero. If you don't know who he is, you should. Check it out.
*I grew to hate those winds. Tepid wind that smells like cow poop. Gee, thanks.
**Thanks Ghostbusters!
***Thanks Winston!