Gameday! The Fates Conspire Against Me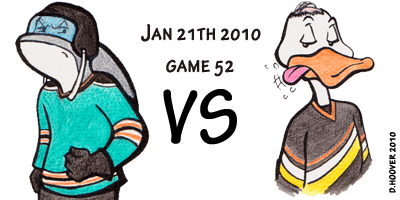 Tonight @ 7:30pm
CSN-CA and KFOX
There is some weird juju going on.
For whatever reason the Fates seem to not want me to watch the harks play the Ducks this season. I missed the first game because of a friend's birthday party, the second because of an early (but extremely delicious) Thanksgiving. The third I only missed about five minutes of, but it was looking like I might have to listen tot he radio for all of that one. Instead I was able to listen to the first and watch the second and third. And then I was out of state for the fourth game. Not only that, I was in a different time zone with a less than reliable internet connection which made watching the game (or even listening to it) impossible.Now we finally reach a point in the season where I am home, have no conflicting plans, and I have tickets to watch the Sharks play the Ducks, and I'm sick. WTF Universe?!
On the plus side, assuming the power stays on and we don't get more tornado warnings (you do realize this is California, right guys? Guys? Somebody get Indra on the phone...) I will be able to watch, or at the very least listen, to the game at home from the relative comfort of my couch. But seriously, this is starting to become ridiculous.
It's because I rooted for the Ducks after they beat the Sharks last year, isn't it? Well, I didn't root FOR them so much as I rooted for a Detroit loss. I was willing to see the Blackhawks take the Ducks in the WCF if it meant the Wings went our in round 2. In a match up like that, I had the choice of rooting against Detroit, or hoping for a meteor. I figured against Detroit was better for humanity. A meteor got the dinosaurs, you know.
Just saying.
Sidenote: Dan Boyle, possible front runner for most awesome dude in the hockey universe, is listed as day to day and will NOT play tonight against the Ducks. That stinks. Demers has been called up to take his place. Go kid, go!