Gameday! Sharks v Red Wings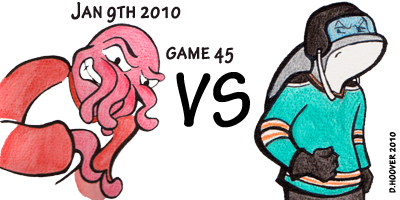 Tonight @ 7:30pm Tune to CSN-CA of KFOX to get your game on.
The DreadWings.
For reasons involving humor, I have a Red Wings winter hat with a white little poof on top. Truth be told, the only thing signaling its allegiance is a super tiny patch sewn on which says "Red Wings". It was a joke gift from a relative who, being from Detroit, is a Wings fan. Well, sort of. He knows they've been a perennially reliable power house, and that they've been having problems this year, but I'm not sure how closely he follows them otherwise. He thought it'd be funny to get me the hat for Christmas. Now it's just sitting here and I don't know what to do with it. In some oddly round about way, I feel like this hat is my household's Setoguchi.  Remove that small patch and there's really nothing wrong it it, but it doesn't seem to fit in anywhere and it can't be counted on come game time. It's not a top line hat, but it isn't a fourth liner either. It's just kind of there, not living up to its wearable potential. The only real different between the two, (for the purposes of this rather stinging metaphor), is that I know for sure which one you won't be seeing at the game tonight.
Not sure why I felt like picking on Seto in today's gameday post. Maybe it's because I kinda feel like his preformance this season mirrors the Wings. He's got a ton of talent, skill and promise, he was injured for a bit, and for some reason he just hasn't found his game yet. In the case of the Wings, I don't find this upsetting. In the case of Seto, I do, because I know how good he CAN be, and I just want to see him succeed again.
Or maybe I'm in stealth grumpy mode. Who knows.