Gameday! First Sharks Game of 2010!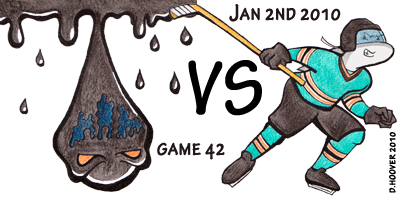 Tonight @ 7pm!
Early start, set your Tivos!

I'm still trying to wrap my head around this whole "it's 2010" thing. I realize I am living in the fabled future of yore, yet I possess no flying cars, no jet pack and my roomba long since passed on from this world to the next. We don't even have hover boards. Science, get with the making of hovering things! They define the future! Did you learn nothing from the 80s?
In this future, the only future we have, it's not all bad. Joe Pa is an Olympian! GO JOEPA! Patty, Joe, Boyle, Heatley, Nabby, Murray and Greiss all will be joining him in Vancouver come Feb. He'll be running into some former Sharks up their too. Team Teal will be very well represented. I'll obviously be rooting for my home country, but I'll be keeping my eye on all the Sharkies out there competing for their mother lands.
But onto today's opponents.
The last time we saw the Oilers, Patty got a Hatty on the way to a 5-4 victory up in freezing cold Edmonton. At least, I assume it was cold. I remember Randy, Drew or Jamie saying it was "balmy" but I suspect that just means around 32 degrees. Maybe 35. I was just in Florida where it was barely below 70 all week. That's balmy. If snow is on the ground, and we're not in Dubai, it's not balmy.

I'm still trying to get over that amazing game vs the Caps and the game against the Coyotes the next night was just nuts. It makes me wonder what tonight's game will be like. I'm hoping the Sharks will be able to start the new year off right, and a get a regulation win. I was also hoping they'd end 2009 that way, and it went to a shoot out. This is a Hockey Night in Canada game so I am hoping some of that Olympic fire will spread to the top line (and Boyle) and they'll really want to show their countrymen why they were picked to represent Canada come Feb. (and then Joe Pa will be like LOOK HOW AWESOME I AM WHOOOOO and score like, 50 goals. Because he's Joe Pa, 2010 Olympian.)

Go, Sharkies,Win!