Blog Postin', Across The Universe
I got a request to do an Anze Kopitar inspired raccoon for the Kings. I believe Rudy Kelly over at BoC popularized this idea awhile back. (actually a lot further back than that, I just couldn't find the article I was looking for) It's so good, I have no idea why I didn't run with it. So, even though we don't face the Kings again this (regular) season, here it is.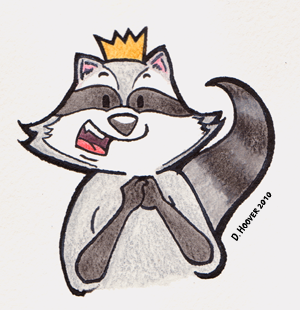 Speaking of the Kings, I wish I could have watched them dismantle the Leafs last night, 5-3. Alas, I only have CSN and Versus, so I watched the Yotes and RedWings instead. For awhile, I didn't like the game that much. *yawn* oh look at that, the Wings are going to win. Sucks for Doan, those mistakes cost him..wait WHAT?! They TIED! They tied with 22 seconds left?! Awesome. You have won me over game, I will gladly watch your OT period. The on the ice reporter for Versus remarked that Doan may need a police escort to leave the arena safely after the thrilling 5-4 win. I'll just assume the only thing raining down on the ice during his interview were boos.
Check out these traditional style Pokemon. Pretty bad ass.
We all make our tea in a yellow submarine, a yellow submarine, a yellow submarine. Seriously, Gray drinks a lot of tea and she fully supports this creation. This is a fantastic looking gift item. But alas, my birthday has passed.
The State of the Union is tonight. Normally I'd say grab a glass of wine and watch, but I am taking a break from booze, so, it will be me and a cup of tea or cider. Feel free to talk back at your screen. I always do. Actually maybe I'll get my workout in during it.
You could also ignore it in favor of hockey, but then you wouldn't get to see the cute little old men who introduce the President.
Everyone is playing Mass Effect 2. I am not.
So that Star trek MMO? yeah, it lets you adjust body proportions. You can give your character what we have coined "Star Fleet Issue Titties." (one of the many games Gray applied to work on and didn't because, well, they decided to lay a bunch of people off instead.)
So uh, you uh, see Kane shirtless? Yeah. We weren't impressed either. It's ok Kane, not everyone can look like Dan Boyle.
Why, hello there...
Gray is wondering who she should root for in the Super Bowl. In the interest of full disclosure, I do not follow football. I have tried, but as far as I can tell it's a bunch of fat dudes in spandex trying to kill the skinny dude in spandex, all while under the pretense of caring about this elongated brown ball. But Mina LOVES football, and I'm an American, so, I do my duty and attend Super Bowl parties. It's the American way!
I could just ask Mina who to root for, but, eh. What sayest you, interwebs?