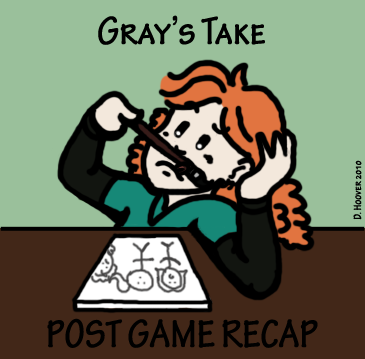 Baseless Optimism.
This is my season motto.
It was last season's motto too, to be honest. With it comes several self imposed ruled; things I no longer allow myself to do.
I don't count my playoff chickens before they hatch. I don't let a few bad games dictate the future of the season. I don't leave games mad.While I may complain about the performance of certain players or the overall team, I still understand that a loss is a team loss and not all on one guy. (The "don't throw one dude under the bus rule" Unless, you know, he really deserves it. If you happen to score all the goals for the opposing team, for example, you might be due for some time under said bus.)
This motto is why, 9 minutes into what was widely touted as a huge game against the Hawks, I said "there's a lot of time left." as a response to the possibility of being blown out. It was honestly quite possible that the game would be 10-1 before the night was over, but it was also entirely possible that the Hawks wouldn't score any more goals the rest of the game. There was just way too much hockey left to write the game off completely. I will admit to suddenly questioning my self imposed break from drinking after that 3rd tally went in behind Nabby, but I took a sip of water and vowed to stick it out.
(I have never seen that many people come back from intermission double fisting beers. The pause between the first and second was a mad dash for mind dulling booze. So much so that trying to get the the bathroom between the second and third required having to navigate a minefield of drunken fans who shambled along slowly, unaware that I might pee on them at any moment.)
The Todd, in his wisdom, called his time out after that third goal against. 3 goals against, when you've had four days off to work and review and go over your game plan is unacceptable. I remember remarking that it looked like the Sharks hadn't watched any video of the Hawks this season, because they made the same mistakes over and over again. Huet goes down early, but they weren't shooting high. Chicago swarms and doesn't allow teams to set up, but we never seemed to have more than two guys in and pressing. 3 guys were almost always back at the line. No one was going to the front of the net, people were off their assignments and at times the point just sort of disappeared as if they thought having a guy there was optional. Nichol can't hold off 4 hawks on his own. Neither can Joe Pa or Manny, or Demers, or anyone else not named Patrick Marleau, and no one was giving them any support. Passing was sloppy at best for much of the game, if not just downright off, and the Sharks spent way too much time in their own zone. You'd think the ice was half court based on how much time they spent not being able to clear the puck.
The building burst back to life after Joe Pa scored in the first. LIFE! See, comebacks are possible! The Sharks came out looking much better during the second, allowing Joe Pa to net his second goal of the night just three minutes in. On the power play no less! The Sharks finally started getting pucks to the next and registered 19 shots. A big improvement from the previous period's 7. It's periods like that that give my baseless optimism reason to continue. Any game is winnable if you stop dicking around and start playing.
The third was not so good, however. Sure the Hawks were held scoreless, but as one of the people I was at the game with pointed out, the Sharks looked tired and appeared to be playing for 1 point, not 2. They started to repeat a lot of the same mistakes they made in the first, and it became insanely frustrating to watch them struggle. Thankfully,  Manny decided to be Manny and score a goal. I think we cheered for 5 minutes after that. A Sharks win was still a definite possibility, if they could just find their legs. (hint: they're below your rib cage)
I don't remember when it was, but at one point Clowe and a Hawk were jawing and the puck slid right past the both of them. Dammit guys! Either drop the gloves and rumble or stfu and watch the damn puck! I think it ended up hanging out in our zone for a long time after that. That it didn't result in a Hawks goal was a minor miracle.
There were a few attempts at fights here and there, and Murray absolutely flattened Byfuglien, but nothing ever ended up devolving into a real round of fisticuffs.
The third and fourth lines lagged a bit all night. The first line was globetrotting (or is that dipsy-doodling?) all night and was relatively ineffective. Patty showed his normal grit and speed, but Joe looked like a large bump in a log last night. Heatley was ok, but he had issues getting a handle on the puck all night. He was hardly the only Shark with such problems.
The good thing was, despite royally sucking for the first 10, and flagging in the thrid, the Sharks still managed to hold their own against a swarming, fast, and clearly more energized Chicago team. They no longer terrify me. Sure, they took it in OT, but Huskins, let me repeat that, KENT HUSKINS nearly won the damn game a shift or so before the Hawks did.
The most frustrating take away is that, on paper, these teams aren't that different. It should be a knock down, drag out, low scoring battle for 60 minutes, and yet it hasn't been that at all in any of the four meetings. The Sharks can play at the same level Chicago brings. We've seen them do it. But for some reason, the Hawks are still a puzzle the Sharks haven't quite solved. Should these two teams meet again in the post season, I'm going to hope for the games to be what they should be, at least on paper, and not what they have been. I don't really care about the Hawks winning the season series 3-1. Like I said, I don't let a small series of games determine the season before it's been played out.
On a lighter note, we decided to rename Blake "Slake" last night. As in Slow Blake= Slake. Clowe was going to be Slowe but we decided against it. We also discovered that if you make a kneading motion (like a cat, not like a baker) during the power play music, it leads to good things. HAPPY FEET! is a new tradition. Sometimes the Shark chomp should really be a minnow anyway.