Your Handy Guide to the Canada/Russia Game
You might have noticed that there are a few pretty important hockey games going on tomorrow.  For Sharks fans, no game is going to find a larger test of loyalty than the Russia vs. Canada game.  Nabby on one side. Joe, Patty, Dany, and Dan on the other side.  So which side do you cheer for?  Well that, dear reader, is a question only you can answer.  However, in order to be helpful, I have complied a list of reasons to root for each team to help you make your decision.  You can thank me later.
5 Reasons to Root for Russia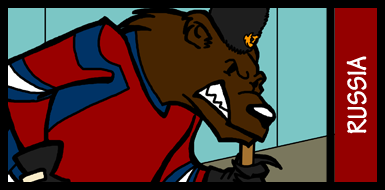 No one wants to face any angry Canada
I mean seriously, do you wanna meet Canada in the gold medal game? After embarrassing them on the international stage on Sunday? After seeing what they did to Germany tonight? I mean seriously, Shea Webber put a puck through the net. Really.  If Russia wins, the US doesn't have to fear karmic retribution in a possible gold medal game.
Having known a few Canadians in my time, I can say that while they are among the nicest people you will meet, they hate to lose at hockey. HATE.  Nothing would make them happier than to match up against the US in the goal medal game and make Team USA looks like they should be playing in a rec league in the middle of nowhere.  I've spent enough time gloating to my Canadian friends and have no desire to have to eat my words and take the well deserved abuse.  Therefore, Russia must win.
It would make Mike Milbury cry
If you have watched any of NBC's "stellar" hockey coverage, you have been made well aware that Mike Milbury loves Sydney Crosby with all his heart. And given the current Ovie vs. Syd competition for GREATEST HOCKEY PLAYER EVAR, this makes Alexander Ovechkin public enemy #1.  Milbury has taken any opportunity given to him to take shots at Ovechkin and give Crosby a tongue bath. (Seriously I feel like I'm listening to Tim McCarver and Joe Buck call a Yankees game sometimes) I would make a drinking game during tomorrow's game around this but I still have to be able to make it to work.
My evil little heart loves the idea of hearing the heartbreak in his voice when he has to acknowledge that Ovechkin played a better game and the Russians prevailed over Sydney the savior.  Delicious.
Look at this face. Now imagine it much, much sadder.
The Wrath of Douglas Murray
As satisfying as it is to see Doug Murray destroy someone in an open ice hit, what if that person was Patty? Or Joe? The winner of this game faces has a shot at facing Sweden and the brick wall known as Douglas Murray.  In order to save the Sharks forwards from trying to get the license plate of the truck wearing #3, Russia needs to win before this terrible event has a chance to happen.
Doug Murray would never hit Nabby.  Right?  Right?
(Besides I have no desire to add to the tab of dollars that I owe Doug Murray for a big hit on a Sharks player)
Nabby's Feelings
I have learned many things about Evgeni Nabokov over the years.  He has a hot blonde wife.  He doesn't have much patience for silly reporter questions.  He will stand on his head and steal a game when you need it. And he wants to win. Every game.  And the Sharks need him to be in a good mindset for the rest of the season if they are going anywhere.  Now imagine what Nabby is going to do with the rest of the time he has off if Russia loses tomorrow.  That's a lot of time to replay what went wrong for the one guy who can have the biggest impact on further Shark success.  A happy Nabby is a productive Nabby.  A Canada loss makes for a happy Nabby.
Too Many Ducks
It's damn near impossible to cheer for a team that has Corey Perry and Ryan Getzlaf on it.  Despite the high number of Sharks on Team Canada, their awesome is overshadowed but the high jerk factor that Getzlaf and Perry add to the team. (Though the image of Corey Perry running into his teammates will warm my cold, cold heart for year to come)  Plus Scott Niedermayer is old.  There are no Ducks on Team Russia. (Except Sergei Fedorov. But he's stolen so much youth, he doesn't count) This makes Russia better and they will win.
5 Reasons to Root for Canada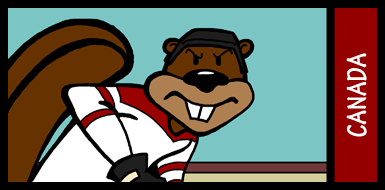 They aren't Russia
We didn't have a 40 year wave your dick around contest with Canada. Sarah Palin can't see Canada from her house.  For most of us 80's kids, the Russians were the ultimate movie villians.  While it's fun to cheer for the villain sometimes, you always end up feeling dirty when it's over.  It's kinda like my mom says about being a Giants fan: You cheer for the Giants and whoever is playing the Dodgers.  Cheering for Russia is like cheering for the enemy. The guys from Miracle would think less of you if you did.
Plus the Canadians are too damn polite to be the bad guy.
Everyone loves HTML
The Sharks top line has been among the most consistent players for Team Canada.  Heatley leads the team in points and Patty is only second to Crosby in ice time for forwards. Keeping the line together has worked out well and I would argue that they were the best line for Canada in the game against Switzerland.
The playoff jokes aren't going to stop until the Sharks make it out the 2nd round. But having this line perform exceptionally well in a clutch situation like tomorrow would go a long way to showing that the top players can perform under pressure.
Dan Boyle
Do you want this to be sad? I didn't think so.
North Americans should stick together
Look, for all the crap people give Canada for being "America's hat," we're all part of the same continent.  Personally, I think much of the anti-Canada feelings comes from jealousy.  It's awful pretty up there all year.  The people are super polite and inviting. (or so I've been told) Hell, many American backpackers pretend to be Canadians when traveling abroad so people think better of them.
Canada has been pretty good to us over the years.  The least we can do is to support them during such an important game.
4 > 1
There are 4 Sharks players for Canada. There is only 1 Shark playing for Russia.  I'm not really great with math, but I know 4 is more than 1.  And using the elaborate proof sheet I created when I was bored in 3rd period, this means Canada is superior to Russia and should win.
(I would like to give a special thanks to some of my Canadian friends for helping me figure out why Canada should win.  All of the funny lines belong to them.  I'm not this funny.  Just ask my students.)