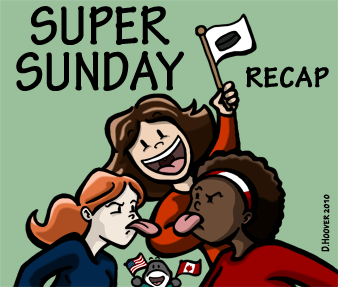 This recap, much let NBC's coverage of the Russia v Czech Republic game yesterday was unfortunately tape delayed. Instead of being taped delayed for reasons that confound even the smartest living man, this was delayed due to a sudden urgent need for tile to complete my kitchen. Said tile was not readily available, causing me to drive around town crazy looking for close alternatives until finally setting in an evening course to the East Bay. Such is the life of a blogger.
Anyway, Russia v Czech Republic.
It was a decent game, from what I could make out on my tiny little streaming view (full screened it was worse looking than small sized, so I stuck with a small window). As I mentioned (fumed, ranted, yelled about?) yesterday, this game was inexplicably tape delayed, despite being advertised all week as a noon start time. Last I checked, these games were in the Pacific time zone, and noon meant, well, noon. 12pm. Lunch hour. Apparently it really meant 3pm both Eastern and Pacific, because really, who wants to watch BOTH Russia v Czech Republic AND USA v Canada?
After spending 20 minutes, and missing most of the first, getting the NBC online stream thing set up (one time sure, but dear god how many hoops must you make people jump though?!) it turns out the what I really tuned into the game for was this:
I'm ok with that.
Russia won the game 4-2 and took group B, giving them a bye in the next round.
Before we get to the marquee game of the evening, let us take a few moments to talk about Sweden v Finland (which aired on time at 9m Pacific)
It was pretty boring. On the plus side, Douglas Murray Crankshafted a few Finns in the third.

Sweden won 3-0, and the game was pretty much only watched all the way through by people interested in knowing which seed the USA would take.

Then there was the glorious main event. The mid day drama. The epic equidistantly placed game, sandwiched between two breaded layers of hockey based joy. USA v Canada.
Why was it on MSNBC and not NBC proper? I don't know. I know enough people who either a) don't get MSNBC or b) have comcastic service and weren't able to get to MSNBC to watch it. Think of what the ratings might have been like had more people had access to the game!
Now of course I wanted the USA to win. So did Mina. (Afro is a turn coat and went with Canada. I mean, sure she lives there, but she's American!) And honestly, yeah, a little bit of that desire to win came from the desire to see Canada have the wind knocked out of their "medal deserving" sails. No one deserves a medal at the Games. They have to be earned. Did I expect the USA to win? Ehh, probably not, but I truly believed they could. (Unlike JR! And Milbury, but really, who gives a frak about Milbury?) Can't say I was looking forward to all the crap about the USA sucking, either.
The first started out with me excited but not at all nervous. It was fun, fast paced, USA scored 44 seconds in, but I wouldn't say they ever dominated the period. They did dominate on hits though. Canada dominated on shots, and probably puck possession. The first ended with the US up 2-1 over their northern neighbors.
My husband and I engaged in some light hearted banter about Broduer and his mug in the second with a Canadian co worker of his. When Canada tied the game at 2-2, she was all about the smack talk. The the USA took the 3-2 lead. Less about the smack talk, more about the WTFAREYOUDOINMARTY?! Apparently he was not trusting his D. The rest of the second was marked by more Canadian control and, well, this:
WAGUUUUSSSHHHHHHH!  COREY PERRY SANDWICH! OM NOM NOM
Sharks fan rejoiced. Why? We don't much care for Corey Perry. Or Pronger. We're sorry that Staal was involved.
I was super nervous at the start of the third. The US was up but it was only 3-2. Anything can happen. 20 minutes of nail biting commenced. It didn't always look good. At times it looked down right iffy. PENALTY KILLLLLLLLLLLLLL
USA goal 4 caused me to leap off the couch. USA goal 5 had me cheering like a mad woman with 45 seconds left, and no care for my neighbors. (They play loud music at all the time anyway. They could deal with a few moments of loud cheering.)
I know it wasn't what the throngs packed into the Canucks home base had wanted to see, but a lot of us USA Hockey fans were ecstatic. It doesn't really mean anything, other than one less game played if you're lucky enough to play them all. But to win, after all the hype and all the people saying we couldn't was pretty awesome. Plus JOE PA!
I heard some folks are blaming the Sharks line for last night's loss. You people are on crack. That is utterly ridiculous. They aren't the only three dudes out on the ice and Heatley scored! I realize a lot of folks don't like him, but you can't ignore the fact that he scored a goal for Canada.
In the end, it was a GREAT game. Really entertaining from beginning to end, just a great great game to watch. It even got non hockey fans here in the US (assuming they had MSNBC) watching and into it. We love us a good pumped up rivalry, even if it's on that makes little sense in the grand scheme of things. (you have hockey, we have hockey, they have hockey, everyone has hockey! Yay hockey!) Nothing to be upset about. That game was amazing.
Oh, and all those classless joke on twitter with the #suckitcanada tag? Those were started by Scott. He's a dick.