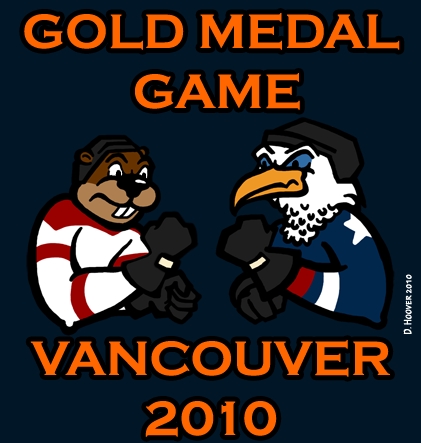 NOON Pacific on NBC
HOLD ON TO YOUR BUTTS!


I like the idea of the gold medal game being decided by a spirited round of rock'um sock'um robots. It'd be like the shoot out only at the end, someone's head pops off.
This game will be a combination of all the good and bad things that come from international competitions.
The friendly, spirited side of nationalism
The darker angrier side of it.
What really happened after Canada took gold in curling. Habs fans are big into curling.


What scares me most about this game are the ugly displays that are likely to follow the game, no matter the outcome. Jokes and such are fine, especially when said all in good fun, but some people will just act like jerks and I want no part of that nonsense. I don't want to turn the tv off if Canada wins because I have nothing against Canadians. Like half the Sharks are Canadian. I want to be happy for them. But they'll be some jackass with a jackassy sign or chant and I'll get disgusted and have to go stare at the Norwegian men's team's curling pants for awhile. Don't go to the douchy side if your victorious Canada. And my fellow Americans, be joyous if we win, but again, don't cross that douche line. We already have a bad rap for that anyway.
To counter this, I'm just going to tell myself that if Canada wins, the Sharks win, and ignore all those guys on team Canada who are current and former Ducks. Everyone's coming home with a medal, and that's the best outcome anyone could ask for. I still totally want the US to take gold though.
Go Team USA! USA HOCKEY IS DO OR DIE! (or stare at Norway's pants for awhile)